Monu Soothing Hawaii Facial Oil 30ml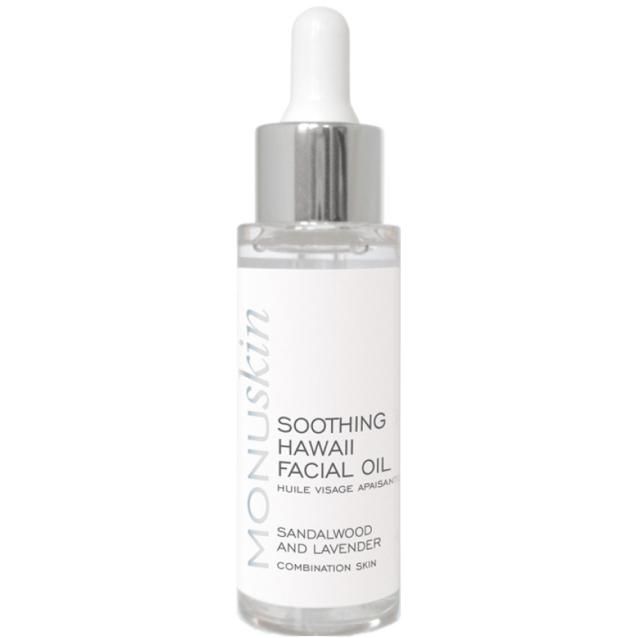 Calm and soothe irritated and sensitive skin with Monu Soothing Hawaii Facial Oil, created using hydrating Sandalwood and soothing Lavender essential oils to ensure skin feels comfortable and revitalised in a base of nourishing hazelnut oil rich in essential fatty acids and grape seed ensuring skin is left feeling comfortable and balanced.
Suitable for: sensitive, combination skin.
How to use: After cleansing and toning apply a small amount to the skin and massage in with gentle upward movements. Recommended to apply at night times.
Key ingredients:
Hazelnut Oil - A light, easily absorbed oil which is well suited to combination and oily skin types. Emollient and nourishing. Rich in essential fatty acids.
Cardamom Essential Oil - A stimulating, warming oil.
Lavender Essential Oil - This versatile oil has a delightful fragrance and is widely used in skincare. It is excellent for dry, sensitive skin as it helps to aid cellular renewal. Lavender is a natural antiseptic and has a calming effect on the system.
Sandalwood Essential Oil - With a sweet, woody scent this oil will have a relaxing effect whilst promoting physical and mental well being. Sandalwood is excellent in the treatment of stress and insomnia. Good for dry, chapped or cracked skin.
Paraben Free, No Animal Testing.