Monu Skin For Men Fresh Wash 180ml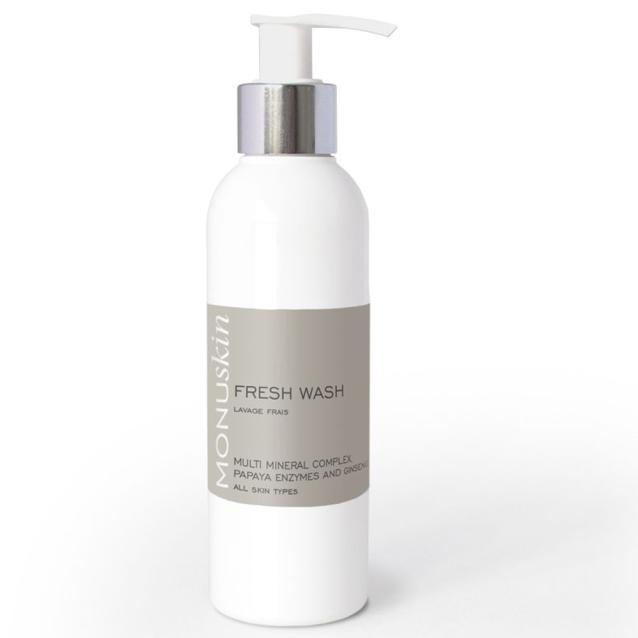 Give your skin a boost in the mornings with Monu Skin For Men Fresh Wash. This gentle facial wash with its delicate exfoliating action helps to lift ingrown hairs, brightening your complexion and refine open pores as it removes surface dulling dead skin cells. A unique blend of Hawthorn and Juniper Juice promises to combat signs of micro bacteria whilst soothing and smoothing the skin to ensure you look and feel revived and ready for action. The perfect wake up wash, use it every morning to energise the skin and stimulate the senses.
Benefits:
Suitable for all skin types
Softens and lifts troublesome facial hair
Key ingredients:
Papaya Enzymes These papaya fruit enzymes gently digest the dead skin cells. The extract is contained in glycospheres which have an affinity to the skin, therefore aiding penetration.
Juniper Extract The Juniper belongs to the conifer family; its berries are used in the making of gin. Renowned in traditional medicine for its stimulating and toning properties. This hydro-glycolic extract of juniper berries is rich in phytosterols, polyphenols and flavonoids. When massaged into the skin the extract helps boost the production of B-endorphins - pleasure molecules - to soothe and comfort the skin.
Hawthorn Extract The ancient Greeks are thought to be the first to use Hawthorn for its medicinal properties. The flowers and berries also reportedly have good astringent and antioxidant properties due to their flavonoid content. This hawthorn extract has anti-microbial properties which provide the skin with protection against harmful acne bacteria; encouraging healthy skin.
How to use: Squeeze product onto the palm of your hand. Rub into a damp face and neck. Massage in until the wash lathers and rinse well.