Kure Bazaar So Vintage Lipstick And Nail Polish Duo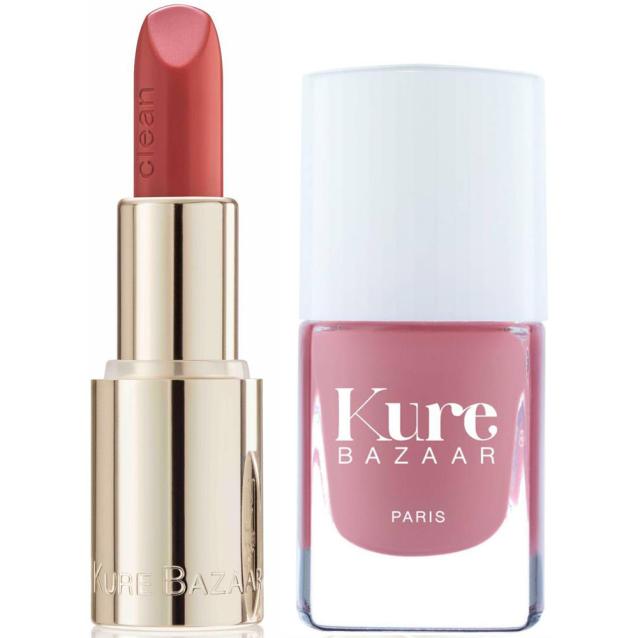 Discover the allure of classic charm with Kure Bazaar Satin Lipstick So Vintage and So Vintage Nail Polish. This duo offers a beautifully coordinated look with a dusky rose pink shade that exudes timeless elegance and effortless beauty.
Includes:
Kure Bazaar Satin Lipstick So Vintage: A classic dusky rose pink shade with a satin finish that provides luminous shine, enhancing your natural beauty. The highly pigmented colour is striking and adaptable to any complexion.
Kure Bazaar So Vintage Nail Polish: Complementing the lipstick, this nail polish in a dusky rose shade combines fashion-forward colour with nature. Enriched with Vitamin E and Bamboo, it strengthens and repairs nails while offering a 90% natural, 12 free formula that ensures vitality, impeccable resistance, ultra shine, and quick dry results.
Benefits of the So Vintage Duo:
Timeless Elegance: Both the lipstick and nail polish feature a dusky rose pink shade that brings a touch of classic elegance to your look.
Luminous Finish: The satin finish of the lipstick offers a radiant shine, while the nail polish boasts ultra shine for a polished appearance.
Natural and Nourishing: Kure Bazaar's commitment to natural ingredients means you can enjoy a sophisticated look with products that care for your nails and skin.
How to use: Apply the Satin Lipstick So Vintage for a beautiful dusky rose lip and pair it with the So Vintage Nail Polish for a perfectly matched, elegant finish.
Embrace the timeless beauty of Kure Bazaar Satin Lipstick So Vintage and So Vintage Nail Polish, where elegance meets natural, eco-conscious beauty for a stunning, coordinated look.
Get a FREE Kure Bazaar Lip Scrub, when you spend £30 or more on Kure Bazaar Lip Balms, Lipsticks, and Duo Sets. T&C apply.