Kure Bazaar Macaron Lip Balm And Nail Polish Duo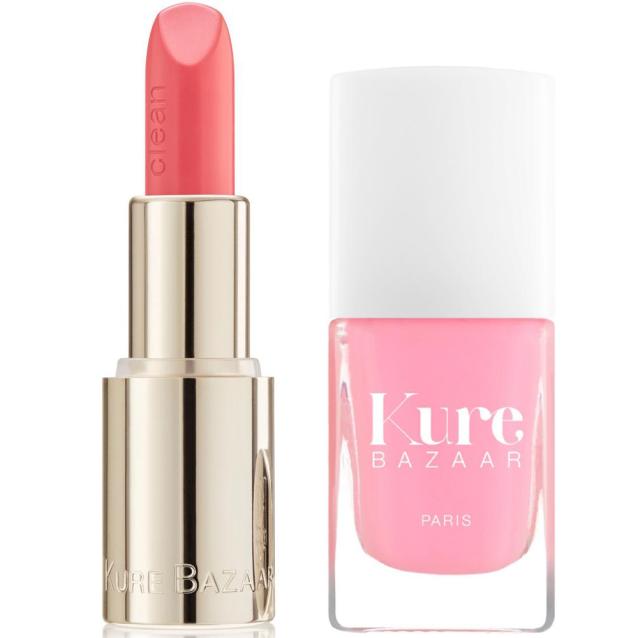 Indulge in the delicate charm of Kure Bazaar Tinted Lip Balm Macaron paired with the matching Macaron Nail Polish. This duo brings together a soft, pastel pink tinted lip balm and a milkshake creme shade nail polish, perfect for a harmonious, subtle beauty look.
Includes:
Kure Bazaar Tinted Lip Balm Macaron: A sheer pastel pink tinted lip balm that offers a light, natural rosy coverage. It's a lightweight formula that nourishes while adding a hint of soft colour to your lips.
Kure Bazaar Macaron Nail Polish: A milkshake creme shade of pink nail polish. It features Vitamin E and Bamboo in its 90% natural, 12 free formula, providing strength and repair to nails while ensuring impeccable resistance, ultra shine, and quick dry results.
Benefits of the Macaron Duo:
Subtle Colour Palette: Both the tinted lip balm and nail polish offer a gentle pastel pink shade for a light, natural look.
Nourishing and Strengthening: The lip balm moisturises and softens, while the nail polish nourishes and strengthens the nails.
Eco-Friendly Beauty: Committed to sustainable practices, these products combine fashion-forward style with natural, eco-conscious ingredients.
How to use: Apply the Tinted Lip Balm Macaron for a hint of natural rosy colour, and complement it with the Macaron Nail Polish for a coordinated and elegant look.
With Kure Bazaar Tinted Lip Balm Macaron and Macaron Nail Polish, embrace a look of understated elegance, while nurturing your lips and nails with natural, eco-friendly care.
Get a FREE Kure Bazaar Lip Scrub, when you spend £30 or more on Kure Bazaar Lip Balms, Lipsticks, and Duo Sets. T&C apply.