Kure Bazaar Cherie Lipstick And Nail Polish Duo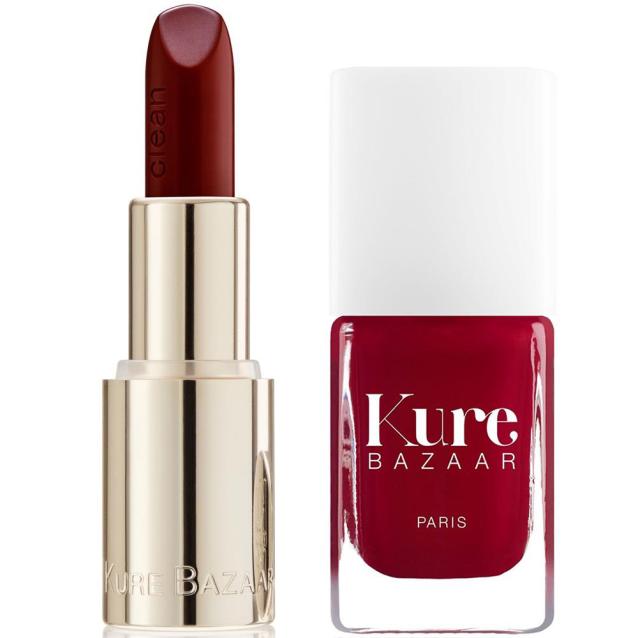 Embrace the allure of classic elegance with Kure Bazaar Satin Lipstick Cherie and Cherie Nail Polish. This duo offers a captivating combination of a vibrant deep royal ruby red lipstick and a rich ruby red nail polish, perfect for a sophisticated and mesmerizing appearance.
Includes:
Kure Bazaar Satin Lipstick Cherie: A deep royal ruby red, this satin lipstick is your go-to for creating a bold and sophisticated lip look.
Kure Bazaar Cherie Nail Polish: Complement your style with this classic rich ruby red nail polish. As with all Kure Bazaar products, it combines fashion-forward colour with nature, offering a trendsetting hue that cares for your nails.
Benefits of the Cherie Duo:
Striking Colours: Both the lipstick and nail polish feature vibrant and rich ruby red shades, perfect for making a bold fashion statement.
Trendsetting and Natural: Align with the latest colour trends while embracing natural beauty. Kure Bazaar is known for its commitment to on-trend colours that meet nature.
Elegant Look: Ideal for creating a captivating aesthetic, this duo is perfect for any sophisticated occasion.
How to use: Apply the Satin Lipstick Cherie for a vibrant and deep ruby red lip, and pair it with the Cherie Nail Polish for a complete and harmonious sophisticated look.
With the Kure Bazaar Satin Lipstick Cherie and Cherie Nail Polish, step into a world of elegance and charm, where vibrant colours meet natural, eco-friendly beauty.
Get a FREE Kure Bazaar Lip Scrub, when you spend £30 or more on Kure Bazaar Lip Balms, Lipsticks, and Duo Sets. T&C apply.