Jan Marini Starter Skincare System Normal/Combo Skin Kit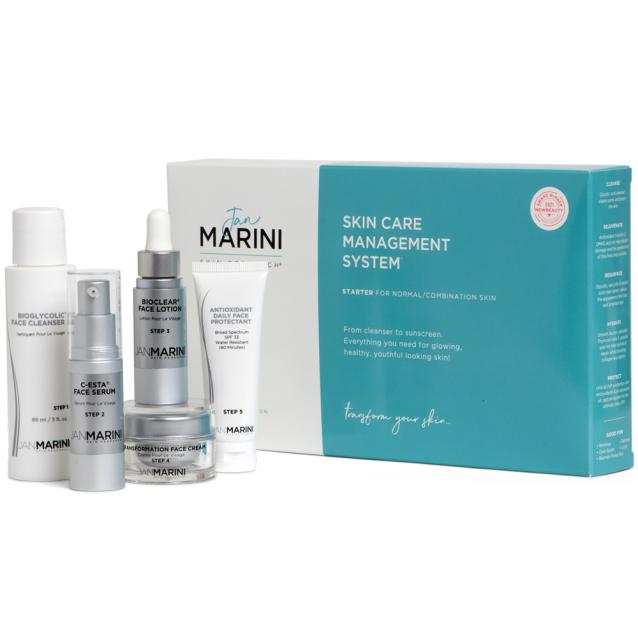 The Award Winning Jan Marini Starter Skincare System For Normal To Combination Skin kit is a comprehensive starter and travel kit as it contains everything you need to get started with this advanced and effective skin care brand. This 5 step Skin Care Management System delivers the most advanced active ingredients and key technologies to achieve maximum results across a number of skin conditions and concerns particularly suited to normal to combination skin.
The system works to treat a variety of skin issues, including wrinkles, fine lines, rosacea, acne, and various skin discolouration conditions. The containers are trial sizes, so people may try the products before committing to the larger sizes found in the standard system. Customers may choose from a number of systems designed to treat various types of skin. This is a skin care management system that is implemented in five steps, and it is appropriate for people with all types of skin concerns.
Contains:
Bioglycolic Face Cleanser 89ml
Jan Marini Bioglycolic Face Cleanser with glycolic acid is a gentle cleanser suitable for all skin types. This formula is soap free, non-irritating, and rinses completely without the need for a post-cleansing toner or astringent. Jan Marini's thorough deep-cleansing product also contains sorbitol, a natural humectant derived from berries, that leaves the skin soft and hydrated.
C-ESTA Face Serum 15ml
Jan Marini C-ESTA Face Serum containing DMAE Complex, creates conditions in the skin that enable dramatic rejuvenation benefits. Skin's texture will quickly begin to appear smoother and suppler. With continued use it will become measurably firmer and more resilient and facial contours will appear tighter and more defined. Deeper lines will appear far less pronounced, skin tones will even, and the skin will appear noticeably younger and healthier.

Bioglycolic BioClear Lotion 15ml
Jan Marini Bioglycolic BioClear Lotion is a remarkable product that targets a number of multifaceted concerns uniquely experienced by adults. Bioclear Lotion utilises a combination of Glycolic Acid, Salicylic Acid and Azelaic Acid for exceptional benefits ranging from adult acne and acne discolouration to the appearance of texture/fine lines, wrinkles, acne scarring, discolouration from sun damage, and enlarged follicles.
Transformation Cream 14g
Go beyond simple hydration with this luxurious, patented growth factor, peptide and antioxidant solution. The ultimate in advanced hydrators to reduce the appearance of aging and damaged skin. *Replaced with Age Intervention Face Cream for Dry To Very Dry Skin Kit.
Antioxidant Daily Face Protectant SPF 33 28g
A consistent favourite with Jan Marini users, Jan Marini Antioxidant Daily Face Protectant SPF 33 provides broad spectrum UVA and UVB protection to decrease the risk of premature skin ageing. A sunscreen you'll love to wear - this invisible, hydrating and weightless sunscreen feels amazing and smells great for the ultimate in daily wearability.