Eye Of Horus Skin Tint Serum Foundation Dark 30ml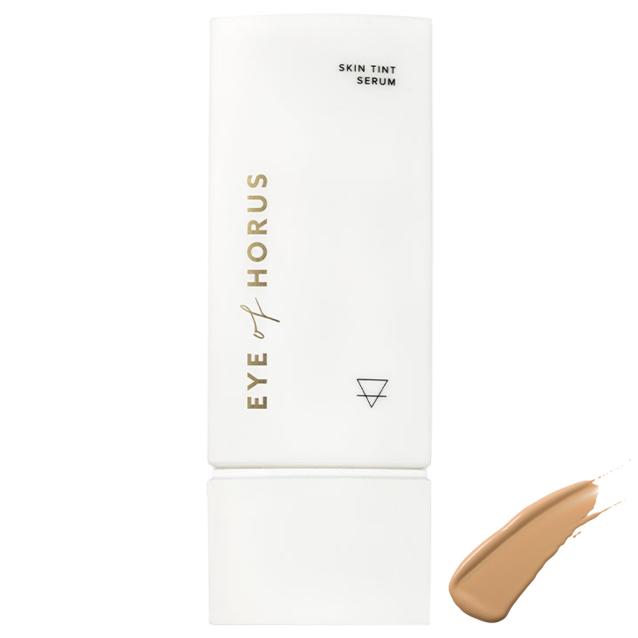 Eye Of Horus Skin Tint Serum Foundation Dark a medium dark shade with warm peach undertones, best suited to those who have a natural sun-kissed tan. A revolutionary makeup and skincare hybrid, the Skin Tint Serum Foundation delivers smooth, complete coverage, mineral sun protection and active skincare benefits. Infused with Eye Of Horus signature blend of seven organic sacred oils to nurture, plump and enrich the skin. Boosted with essential vitamins, minerals and antioxidants, this lightweight, water resistant formula visibly blurs imperfections and smooths skin tone for a more radiant and youthful complexion.
Designed for all skin types and enriched with certified organic ingredients, this soothing, skin benefiting serum foundation is 100 percent natural, vegan friendly and ethically sourced. Ancient oils including Moringa, Abyssinian, Marula and Nigella combined with Hemp, Pomegranate and Baobab work to boost collagen production, lock in moisture and maintain softness, hydration and elasticity.
Benefits:
100% natural, vegan-friendly, cruelty-free and ethically sourced
Enriched with certified organic ingredients
Infused with their signature blend of seven sacred oils
Offers mineral SPF15 protection against UVA and UVB rays
Made with 50% Post-consumer Recycled Packaging
How to use: Shake to activate the organic oil infusion and suspension of pure mineral pigments. Gently press and massage onto the face using your fingertips, sponge or a brush. Begin with a minimal amount and start at the centre of the face, blending outwards. Layer until desired coverage is achieved.