Tisserand Juniper Berry Organic Essential Oil 9ml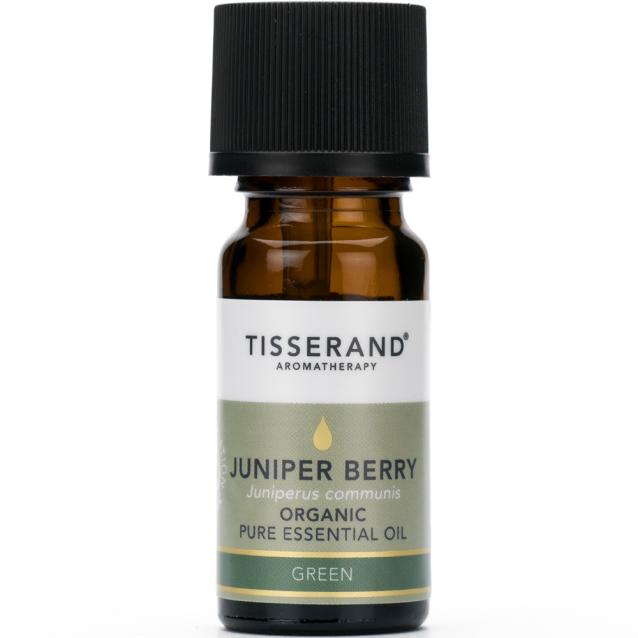 Tisserand Juniper Berry Organic Essential Oil is refreshing, purifying and strengthening, with a woody green aroma. Ideal in massage or the bath to invigorate the mind and purify the skin. The Juniper plant is a tough, robust evergreen with small green berries that can take up to two years to ripen. Juniper was burnt in the sickrooms of ancient Greece to purify the environment and used during the mummification process in ancient Egypt. Modern uses however, are far less melancholy. Topical treatments of Juniper will help to warm tired or aching muscles, help to relieve the symptoms of arthritis and shift excess fluid from the system. When used in a diffuser, this pungent, cleansing fragrance clears the mind of negative thoughts and improves mental concentration.
Extraction Method - Steam distillation
Plant Part - Berries
Aroma - Fresh, green and woody with a softer, sweeter aroma as it evaporates.
Fragrance Family - Green
Perfumery Note - Middle
Consistency and Colour - Thin and colourless
Blends Well With - Cypress, Clary Sage and Sandalwood
Keywords - Purifying, Cleansing and Vigorous
Shelf Life - Once opened, store in a cool dark place and use within 12 months.
Certified organic essential oils are derived from plants that have been grown without the use of man-made fertilisers, herbicides or pesticides - instead using ecosystem management methods to maintain the health of both plant and soil. There are no inputs such as genetic modification or irradiation. The benefits of organic agriculture include no pollution of the local air or groundwater and no toxic chemicals in the plant or its essential oil, meanwhile maintaining the viability of the local environment.
Safety: Jasmine should not be used on people with sensitive skin and is not suitable for use during pregnancy. Avoid contact with sensitive areas, such as eyes. Keep out of reach of children. Do not use this essential oil on children under 5 years old. Best kept in a cool dry place. Naturally occurring allergens: Benzyl Benzoate, Eugenol and Linalool.