Tisserand Ginger Organic Essential Oil 9ml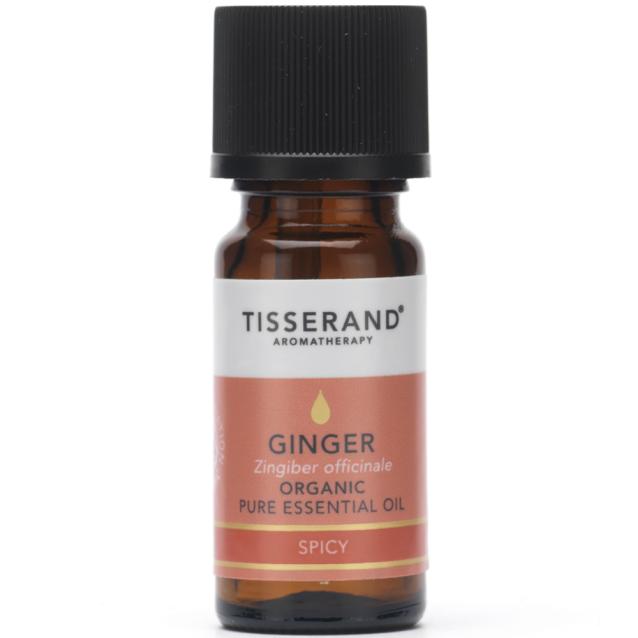 Tisserand Ginger Organic Essential Oil is a cheering, stimulating and comforting oil with a hot spicy aroma. Ideal in massage or the bath to cheer the heart and warm the body. Hailing originally from the Far East, Ginger has proved itself a popular fragrance, flavouring and medicinal compound for many years. A staple ingredient in Asian cookery, Ginger lends itself well to the treatment of digestive complaints, as well as a host of other ailments.
Ginger essential oil is extracted from the same part of the plant as commercial ginger used in cookery. To produce essential oil, steam distillation is used to draw an almost colourless liquid from the dried roots. In the practice of aromatherapy Ginger is often used to aid digestion and ease stomach cramps. It can also be used as an effective tool for combating sickness and nausea and is especially good when travelling or when inhaled during pregnancy. When applied to the skin in an aromatherapy massage blend, the oil warms the skin, easing poor circulation and boosting blood flow to cold hands and feet.
Extraction Method - Steam distillation
Plant Part - Root
Aroma - Spicy, rich and sharper as it evaporates
Fragrance Family - Spicy
Perfumery Note - Base-Middle
Consistency and Colour - Thin and yellow to brown
Blends Well With - Bergamot, Lavender and Lemongrass
Keywords - Comforting, Warm and Spicy
Shelf Life - Once opened, store in a cool dark place and use within 12 months.
Certified organic essential oils are derived from plants that have been grown without the use of man made fertilisers, herbicides or pesticides - instead using ecosystem management methods to maintain the health of both plant and soil. There are no inputs such as genetic modification or irradiation. The benefits of organic agriculture include no pollution of the local air or groundwater and no toxic chemicals in the plant or its essential oil, meanwhile maintaining the viability of the local environment.
Safety: For external use only. Do not use undiluted on the skin. Avoid contact with sensitive areas, such as eyes. Keep out of reach of children. Do not use essential oils on children under 5 years old. Consult your healthcare professional before using essential oils during pregnancy. Best kept in a cool dry place. Naturally occurring allergens: Limonene