Redken Matte Clay 75ml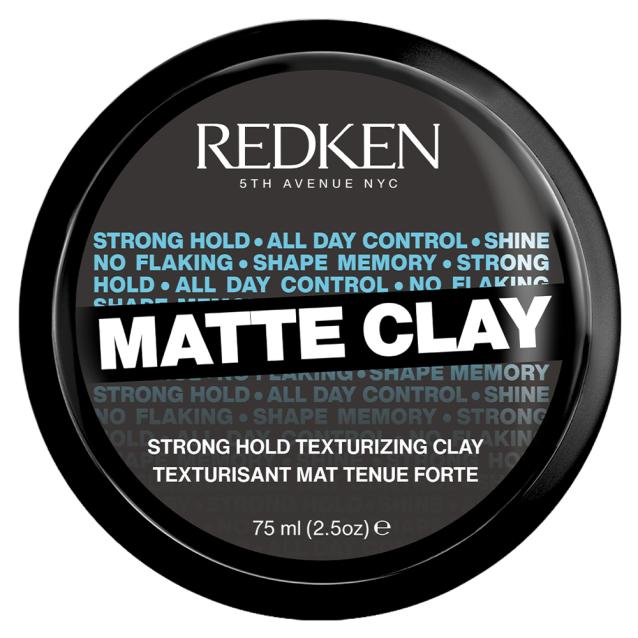 Redken Matte Clay 75ml is new and improved hair styling product that will give your hair a flexible hold, matte finish, and textured definition.
This professional-grade clay is formulated with colour-safe ingredients and UV filters to protect your hair from environmental aggressors. It's perfect for creating a variety of looks, from undone bedhead to sleek and styled.
Here are some of the benefits of using Redken Matte Clay:
Flexible hold that won't weigh your hair down
Matte finish that won't leave your hair looking greasy
Textured definition that gives your hair added volume and body
Colour-safe formula that won't damage your hair
UV filters that protect your hair from the sun's harmful rays
Apply a small amount of clay to your hands.
Warm the clay between your palms.
Apply the clay to your hair, starting from the roots and working your way down.
Style your hair as desired.
Redken Matte Hair Clay is the perfect styling product for anyone who wants to achieve a modern, undone look. It's easy to use and gives your hair a natural, healthy finish.
Try it today and see the difference for yourself!
This hair styling product is the best replacement for the Redken Rough Clay 20 Matte Texturizer, featuring a unique Bonding System for long lasting control and humidity resistance without flaking, stickiness or build up.
Redken Texture Collection is a must have on the runway of New York Fashion Week, from tousled and matte to sleek and controlled, the right texture gives any look a high fashion finish. A complete range of stylers for separation and control that just will not quit.
Redken was founded in 1960 by Paula Kent, her hair was highly bleached and baby fine and with a sensitive skin she constantly experienced allergic reactions. As a Hollywood actress this was very challenging for Paula. She soon realised that there were millions of other people who needed gentle, high performance products, and that professional hairdressers needed to know the chemistry of hair and skin, product ingredients and their relationship to beautiful, healthy hair. Redken was born and their formulas were developed with protein technology and with an acidic pH of 4.5-5.5, complementing the natural pH of the hair and skin.