Opi Live Love Carnaval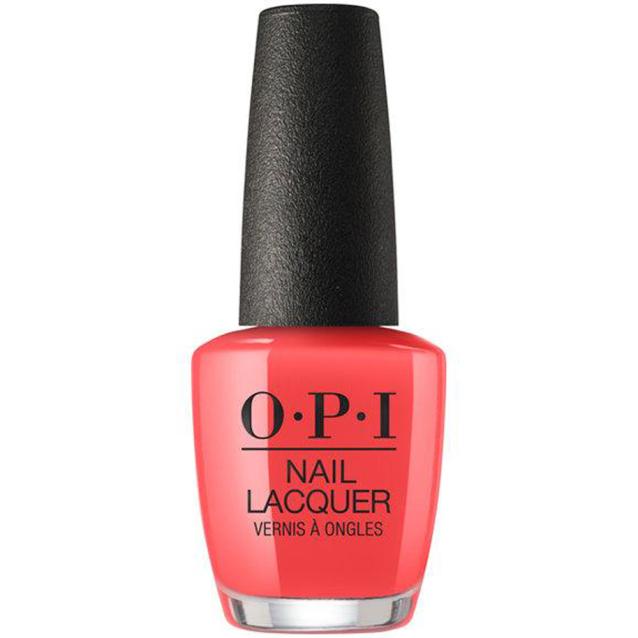 Opi Live Love Carnaval Nail Polish, a vibrant and festive coral that is the life of the party. Also is part of the Brazil collection, featuring OPI exclusive ProWide Brush for the ultimate in application.
Brazil by OPI brings 12 nail colours to nail and toes for nails and toes for Spring or Summer, inspired by the tropical rainforests and warm sandy beaches, this collection features a palette ranging from bright hues of red, pink, coral, orange and yellow to earthy tones of taupe, sienna, mocha and jungle green.
"With sun soaked shores, tropical fruits, and lush flora/fauna, Brazil is such an inspiring locale," exclaims Suzi Weiss-Fischmann, OPI Co Founder and Executive VP. "I wanted women around the world to embrace the energy and playfulness for which Brazilian women are known. Through the Brazil collection, with shades drenched in colour and charged with shine, women can express themselves, showing off their sexy, mysterious, fun and exciting natures".
OPI is a world leader in nail polish, with exceptional formulas and fashionable shades that are rich and heavily pigmented making them long lasting and chip resistant. Each lacquer features Opi exclusive ProWide Brush for the ultimate in application.
Follow these steps for a long lasting manicure:
Start by applying OPI Base Coat to clean, dry nails with cuticles pushed back.
For a perfect polish, apply one stroke of nail lacquer down the centre of the nail, followed by one stroke along each side of the nail.
Then apply a second coat of nail lacquer, pulling colour over the tips of the nails.
Shine, seal, and protect with one coat of OPI Top Coat, pulling it over the tips of the nails.
Apply 2 drops of DripDry Lacquer Drying Drops to each nail for a manicure that is dry to the touch in minutes.
Free from Formaldehyde, DBP and Toluene.
Please note - cannot be exchanged, returned or sold outside the UK.