Neom Reed Diffuser Real Luxury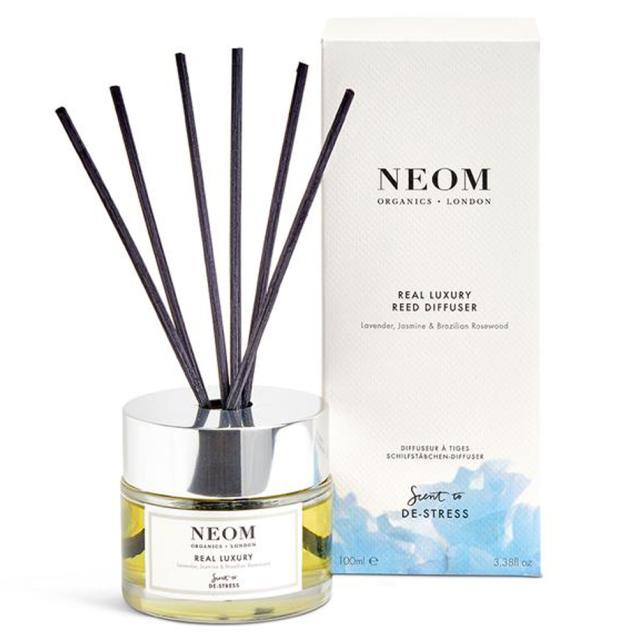 Balance your mind and comfort your soul with Neom Real Luxury Reed Diffuser, part of the Scent To Destress range this natural fragrance consists of 24 comforting essential oils, including lavender, jasmine and Brazilian rosewood. This fragrance has been expertly blended to have a calming and therapeutic effect on your mind and body, working to banish stress and create an atmosphere of calm. Real Luxury not only smells wonderful but also helps you to relax and unwind.
Neom Reed Diffuser Real Luxury is made from a blend of the finest 100% natural ingredients and scented with an incredible 20 to 25mls of the purest possible essential oils, Neom reed diffusers work to change your mood as they fill the air with natural goodness, lasting for 6 to 8 weeks. You simply choose the treatment you need.
Size: 100ml / 6 sticks
Fragrance: Cashmere blankets and the flutter of the fireside warmth. A precious moment of utter luxury. Heady jasmine with a little French lavender and the soothing, spicy tones of Brazilian rosewood.
Therapeutic effects: Jasmine is an oil long celebrated for its ability to lift the spirits and inspire optimism. For this unique blend we coupled it with rosewood, a comforting and warming oil with a balancing effect on the mind and body. Alongside this, Neom have also added ultra relaxing lavender and a further 21 essential oils, all chosen for their ability to make you feel pampered.
Directions: Unscrew the collar and remove the seal. Replace the collar and insert the reeds. Allow 48 hours for the fragrance to fill the room with scent. For a stronger scent use all of the reeds and turn daily. For a more subtle scent use fewer reeds and turn less often.
Expert De-Stress Tip: This reed diffuser can be used to create a calm zone. You can intensify the treatment by lighting a Real Luxury Scented Candle or spritzing the Real Luxury Home Mist onto fabrics. Neom have also created a Stress Relief Pulse Point and an On The Go Mist in this scent, so now you can create a moment of calm wherever you are.
Whether it is to relieve stress, calm and relax, aid sleep, boost your energy or lift your mood, Neom make a Scent to make you feel good.