Neom Reed Diffuser Complete Bliss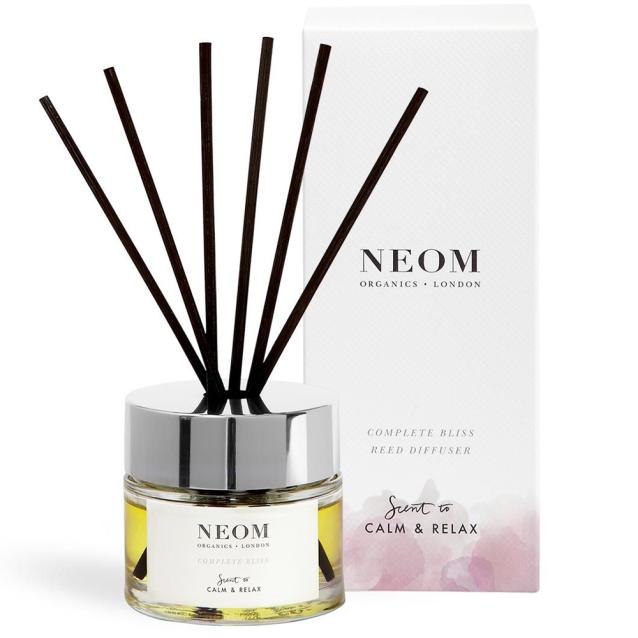 Calm your mind and lift your mood with Neom Reed Diffuser Complete Bliss. This Scent To Calm and Relax natural fragrance consists of 17 calming essential oils including Moroccan Blush Rose, Lime and Black Pepper. A carefully selected blend of some of the most expensive essential oils in the world, chosen for their power to relax you. Complete Bliss will ease tension and help to relax your body and calm your mind. A great calming tool kit to help you live a peaceful life.
Neom Reed Diffuser Complete Bliss is made from a blend of the finest 100% natural ingredients and scented with an incredible 20 to 25mls of the purest possible essential oils, Neom reed diffusers work to change your mood as they fill the air with natural goodness, lasting for 6 to 8 weeks. You simply choose the treatment you need.
Size: 100ml / 6 sticks
Fragrance: Warm afternoons in Moroccan kasbahs, flanked by thousands of damask pink buds and blousy petals. Combined with fresh lime and earthy black pepper, this is a fresh modern twist on rose.
Therapeutic effects: Rose has traditionally been used to lift mood and inspire confidence. It also works as an aphrodisiac and helps against hay fever, headaches and tension. Lime and black pepper both work to stimulate the mind, leaving you with an uplifted feeling.
Directions: Unscrew the collar and remove the seal. Replace the collar and insert the reeds. Allow 48 hours for the fragrance to fill the room with scent. For a stronger scent use all of the reeds and turn daily. For a more subtle scent use fewer reeds and turn less often.
Expert Calming Tip: For a more calming treatment that gets to work even faster, layer the scent from your reed diffuser with a Complete Bliss Scented Candle. As you inhale the relaxing fragrance, practice mindful breathing technique, breathe in through your nose for 7 seconds and out through your mouth slowly for 11 seconds.
Whether it is to relieve stress, calm and relax, aid sleep, boost your energy or lift your mood, Neom make a Scent to make you feel good.