Neom Reed Diffuser Feel Refreshed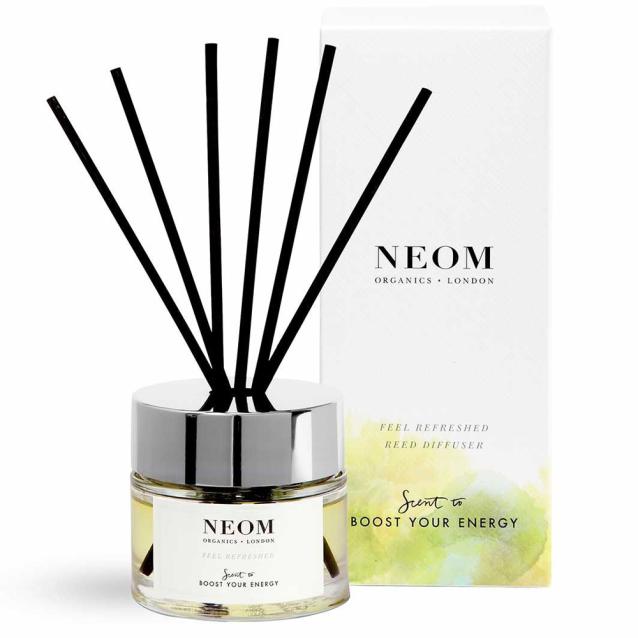 Invigorate your senses with Neom Reed Diffuser Feel Refreshed, part of the Scent To Boost Your Energy range, this natural fragrance consists of 24 energising essential oils including Sicilian Lemon and Fresh Basil. To accomplish anything in life you need energy and this pure blend will give you a boost to stimulate your mind and body and encourage clear thinking. Feel Refreshed is a wonderful and potent fragrance and is part of the Scent To Boost Your Energy range.
Neom Reed Diffuser Feel Refreshed is made from a blend of the finest 100% natural ingredients and scented with an incredible 20 to 25mls of the purest possible essential oils, Neom reed diffusers work to change your mood as they fill the air with natural goodness, lasting for 6 to 8 weeks. You simply choose the treatment you need.
Size: 100ml / 6 sticks
Fragrance: Sun baked lemons, picked at the perfect moment of ripeness from the lush branches of the trees from a Sicilian lemon grove. Coupled with clean, fresh basil, this is a pure, energising scent.
Therapeutic effects: Breathing in a high concentration of pure lemon oil works to stimulate a tired and busy mind, encouraging clear thinking. Basil has long been used to help with mental fatigue and the ability to concentrate. Perfect for the morning or a pre-night out pick me up.
Directions: Unscrew the collar and remove the seal. Replace the collar and insert the reeds. Allow 48 hours for the fragrance to fill the room with scent. For a stronger scent use all of the reeds and turn daily. For a more subtle scent use fewer reeds and turn less often.
Expert Energising Tip: Layer this scent with the Feel Refreshed Scented Candle and Home Mist for a more intense scent that gets to work even faster. Turn the reeds regularly for a fresh burst of fragrance and keep energy levels topped up during the day with Neom Scent To Boost Your Energy On The Go range.
Whether it is to relieve stress, calm and relax, aid sleep, boost your energy or lift your mood, Neom make a Scent to make you feel good.