Neom Feel Refreshed Scented Candle 3 Wick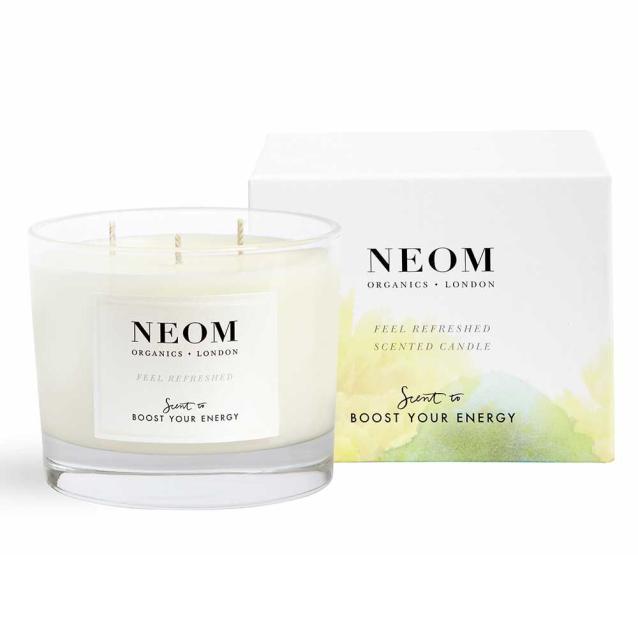 An invigorating scent to fill your home, Neom Feel Refreshed Scented Candle 3 Wick is a natural blend of 24 pure essential oils, including Sicilian lemon and fresh basil to have an energising effect on your body and mind. Part of the Scent To Boost Your Energy range, Feel Refreshed will help to stimulate a tired mind and encourage clear thinking, perfect for times of deep concentration and clear thinking. We use this uplifting candle for our offices at John and Ginger. With a burn time of 50 hours these candles are the ultimate indulgence, filling the air with their natural fragrance for a therapeutic effect on your mood.
Burn time: 50 hours
Weight: 420g / 3 Wicks
Fragrance: Sun baked lemons, picked at the perfect moment of ripeness from the lush branches of the trees from a Sicilian lemon grove. Coupled with clean, fresh basil, this is a pure, energising scent.
Therapeutic effects: Breathing in a high concentration of pure lemon oil works to stimulate a tired and busy mind, encouraging clear thinking. Basil has long been used to help with mental fatigue and the ability to concentrate. Perfect for the morning or a pre night out pick me up.
Directions: Always light all 3 wicks at the same time and burn for a minimum of 2 hours and a maximum of 4. This will ensure the wax burns evenly. Never leave a burning candle unattended. Keep out of the reach of children and pets. Always leave at least 10cm between candles. Do not burn on or near anything that can catch fire. Trim wicks to about 1cm before lighting. Always extinguish the candle and do not relight when the wax level is less than 1cm.
Neom Feel Refreshed Scented Candle 3 Wick contains the highest possible percentage of the purest possible essential oils, which not only smell wonderful but also have true therapeutic benefits for the mind and body, helping to transform the way you feel. We use a complex blend of pure, natural vegetable wax and 100% natural fragrance with nothing else added. There is a massive 30 to 40ml of pure essential oils in each candle, which means they have the power to positively change your mood. Petrochemical paraffin or mineral wax is never used, only the purest possible ingredients. All Neom products are 100% natural, ethically sourced, finely crafted in Britain from sustainable origins with absolutely no artificial ingredients. Whether to relieve stress, calm and relax, aid sleep, boost your energy or lift your mood, Neom make Scent to make you feel good.