Moschino Fresh Gold EDP 50ml Spray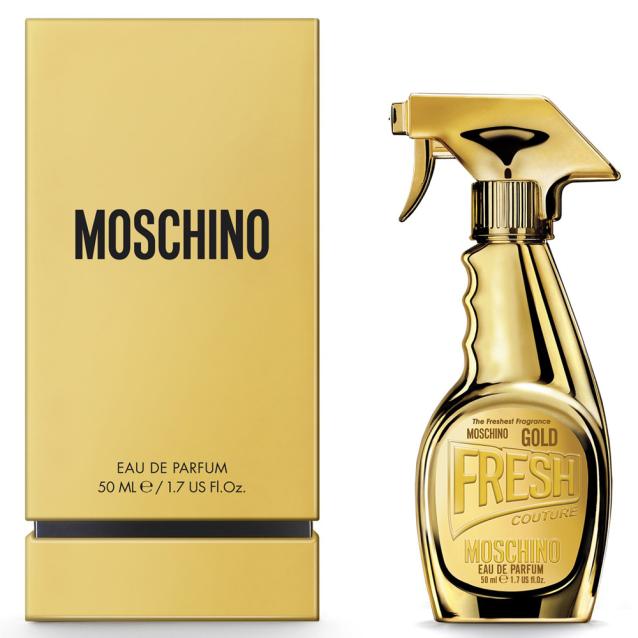 Moschino Fresh Gold EDP 50ml Spray ironic notes play on a vibrant top where the mandarin dorée orpur, teases a pear-rhubarb granita caressed by an exquisite and juicy white vine peach. A floral whirl reveals an enchanting jasmine scent, with an elegant and sensual sillage with sandal, musk and vanilla. Moschino gold fresh couture is the third surprising edition of the iconic cleaning spray bottle, the ultimate dichotomy of high and low.
Please Note: We cannot ship perfumes or aftershaves outside the UK.
Infuse a touch of opulence into your daily routine with Moschino Fresh Gold EDP 50ml Spray. This luxurious fragrance seamlessly blends the playful irony of its packaging with a genuinely sophisticated scent profile. As you indulge in the exquisitely curated notes, the bouquet unfolds from a citrusy sparkle to a lush floral heart, finally settling into an irresistibly warm base. This captivating fragrance is not just a scent; it's an experience that brings together the contrasting worlds of everyday practicality and high-end glamour. With its eye-catching golden cleaning spray bottle, Moschino Fresh Gold challenges the norms of conventional perfume packaging while offering a scent that is nothing short of enchanting. A perfect conversation-starter, this fragrance effortlessly marries whimsy with elegance, making it the ultimate accessory for the modern, empowered individual.