Scented Home Candle Number 4 With Amber And Jasmine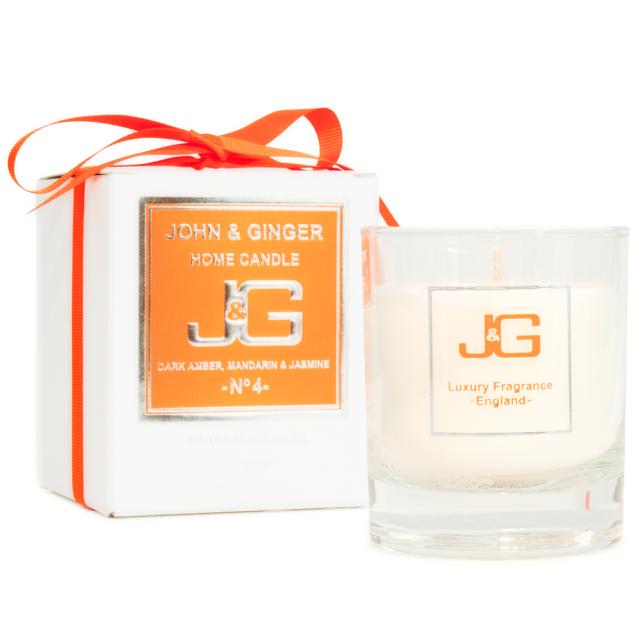 Dark Amber, Mandarin And Jasmine
A heady, rich, Dark Amber base, warmed with Vanilla and Patchouli, freshened top notes of Bergamot, Mandarin and Lemon, smoothed with Jasmine, Casablanca lily and Tuberose, for total indulgence, adding a luxurious ambience to any room of the home.
Hand poured in the UK using the highest quality wax for a long, clean and even burn, the John And Ginger Scented Home Candle Number 4 With Amber And Jasmine comes presented in a beautiful white gift box finished with ribbon.
Scent: Autumn, Winter
Burning time approx: 30 hours
Glass: 7cm x H 8cm
Presentation box: 8 x 8 x H9.5cm
Directions and Care:
Trim wick to about 1cm before lighting. To maximise your candles burn time, always allow your candle to become molten across the entire surface before extinguishing the flame.
After burning, trim your candles wick to just below 1cm, do not allow the excess wick to fall back into the molten wax.
Instead of blowing out your candle, use the silver lid to snuff the candle to prevent the wick from smouldering.
Never leave a burning candle unattended. Keep out of the reach of children and pets. Always leave at least 10cm between candles. Do not burn on or near anything that can catch fire. Always extinguish the candle and do not relight when the wax level is less than 1cm.
Get a Free Branded Black T-Shirt added to your parcel, when you sign in and spend £15 or more on our own John And Ginger Own candles and reed difussers. *You need to be signed in or create an account for this item to be added to your basket. Terms And Conditions Apply. Search for "Free Gifts" and click on categories to see all our freebies and to get more information.