Neom Perfect Night's Sleep Scented Travel Candle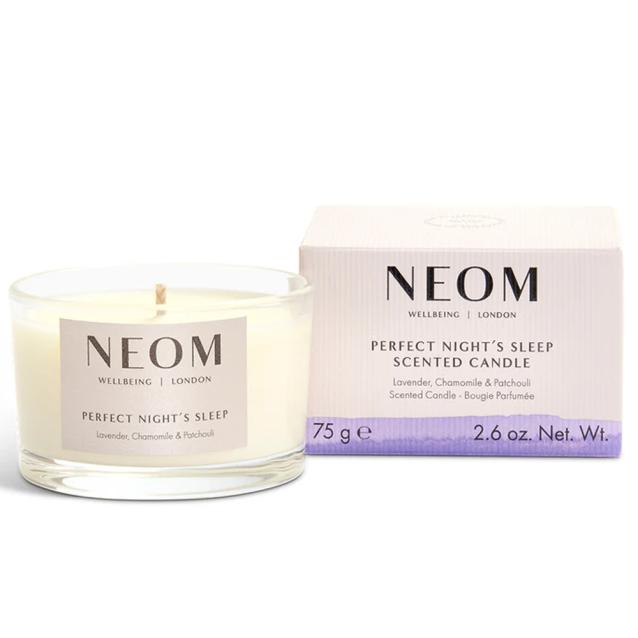 The Neom Tranquillity range helps prepare you for sleep with its heavenly relaxing blend. Neom Perfect Nights Sleep Scented Travel Candle will relax your mind and induce sleep. Part of the Scent To Sleep range with a natural fragrance of 19 deeply relaxing essential oils, including English lavender, sweet basil and jasmine, for a therapeutic effect on your mind and body. This candle has 6 to 8ml of pure essential oils to fill your room with this incredibly calming scent, perfect for scenting smaller rooms, as a gift or to take on your travels.
Neom Travel Candle Perfect Nights Sleep contains the highest possible percentage of the purest possible essential oils, which not only smell wonderful but also have true therapeutic benefits for the mind and body, helping to transform the way you feel. With a complex blend of pure, natural vegetable wax and 100% natural fragrance with nothing else added. There is 6 to 8ml of pure essential oils in each travel candle, which means they have the power to positively change your mood. There is no petrochemical paraffin or mineral wax ever used and only the purest possible ingredients. All products are natural, ethically sourced, finely crafted in Britain from sustainable origins with absolutely no artificial ingredients. Whether it is to relieve stress, calm and relax, aid sleep, boost your energy or lift your mood, Neom make Scent to make you feel good.
Burn time: 20 hours
Weight: 75g 1 Wick
Fragrance: The purple splendour of a neatly lined lavender field on a glorious English summers day. The green, sweet scent of English lavender, typically a little cleaner smelling than the more floral French lavender, coupled with sweet basil and pretty jasmine is a heavenly relaxing blend.
Therapeutic effects: Neom spent two years expertly twisting together hundreds of oils to find a blend that would help induce the perfect night's sleep. Lavender has been proven in countless studies to calm and relax the mind and body when inhaled. In our trials the vast majority of people had a better night's sleep after using this scent.
How to use: Burn for a minimum of 2 hours and a maximum of 4. This will ensure the wax burns evenly. Never leave a burning candle unattended. Keep out of the reach of children and pets. Always leave at least 10cm between candles. Do not burn on or near anything that can catch fire. Trim wicks to about 1cm before lighting. Always extinguish the candle and do not relight when the wax level is less than 1cm.