Jan Marini Bioglycolic Face Cream 57g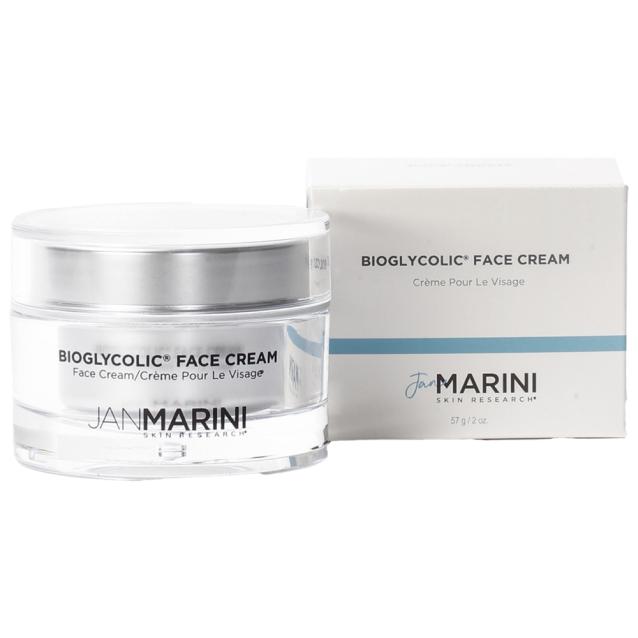 Jan Marini Bioglycolic Face Cream is a lightweight moisturiser with resurfacing benefits from glycolic acid, helping to improve the skins texture and appearance, whilst keeping it hydrated with its unique barrier emollient that works to retain moisture. In addition, the benefits of glycolic acid have been greatly enhanced by incorporating a unique phytoamine bio-complex along with hyaluronic acid. The advanced formula will achieve results previously beyond the scope of glycolic acid, clearing the appearance of exisitng acne lessions, improving the appearance of rosacea, refining pore size, and improving marks left by acne. Bioglycolic Face Cream also offers exceptional anti ageing benefits.
Suitable for: all skin types, especially mature and dry skin
Benefits:
14% Glycolic
Leaves the skin with a silky, soft, glowing finish
Resurfaces skin for a dramatically softer and smoother texture
Significantly lessens appearance of the fine lines and wrinkles
Evens skin tone
How to use: Apply a small amount to face and thoroughly massage into skin. Use once or twice daily. Apply every night for the first week, then increasing to twice daily in second week if required. OR alternate with another step 3 product. For darker skin apply pm 1st and 2nd week, 3rd week am and pm. Allow to dry before applying a sunscreen.