Ardell Individuals Combo Black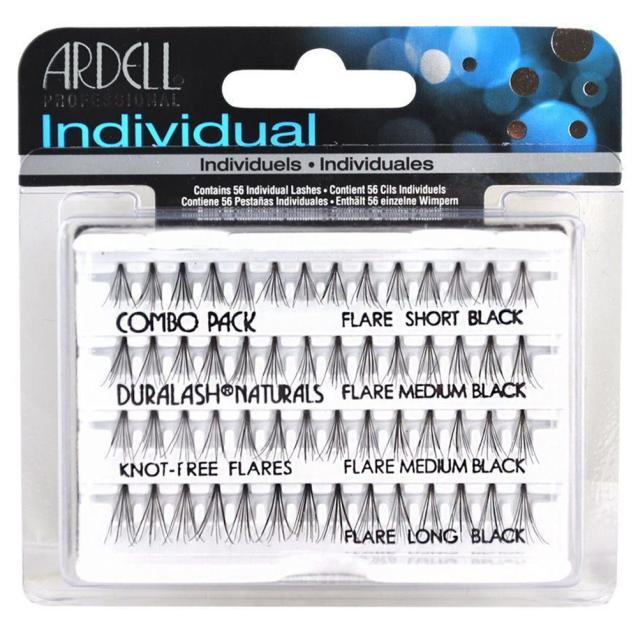 Ardell Individuals Combo Black, comes with a total of 56 knot free individual lash clusters. Giving you three varieties of lengths to choose from, a subtle, natural look or to pump up your style with longer lashes.
Includes:
14 Small Knott Free Lashes.
28 Medium Knott Free Lashes.
14 Long Knott Free Lashes.
How to apply:
Pour a few drops of LashTite adhesive onto a piece of foil.
Gently lift a individual lash from tray with tweezers.
Dip end of the lash into the adhesive.
Starting at the centre of the eyelid, apply lashes one at a time by placing the lash cluster on top of one of your own natural lashes. The end should be close to, but not touching your eyelid. Support the lash gently with fingertips until adhesive sets. Work towards the outer corner. Return to centre and gradually work inward until lashes blend.
Apply 10-15 lashes per eye.
DuraLashes should be replaced as your natural lashes shed. (About 4 to 5 weeks).
Care and Cleaning: Cleanse lashes with cool water. Oil-based cleansers soften adhesive. Be gentle. Do not rub or towel dry your eyes. Allow your lashes to air dry. Like natural lashes, DuraLashes will singe. Avoid open flame or direct heat.
Removal: Your DuraLashes can be easily removed with specially formulated Lash Free Adhesive Remover. Never try to pull them off after adhesive has set.