Absolution Clear Skin Anti Blemish Treatment 15 x 1ml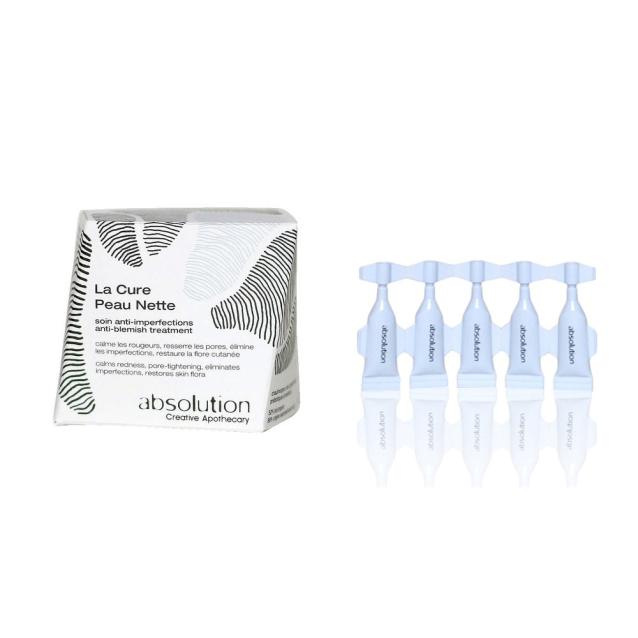 Calm redness, tighten pores, eliminate imperfections and restore the balance of reactive and blemish prone skin with Absolution Clear Anti Blemish Treatment. Formulated with a high concentration of active, natural and organic ingredients that work in synergy with your skin giving dramatically clearer complexion in just 15 days. Due to its purifying and balancing natural assets, your skin will normalize, control and reduce redness and shine, reduce or even eliminate spots, and essentially repair itself, within two weeks of continued use. Skin is visibly clearer, fresher, smoother and more radiant. Also known as Absolution La Cure Peau Nette.
Suitable for: oily or combination skin types
Benefits:
Tulsi native to India, Tulsi is known for its purifying, antibacterial and antiseptic virtues. Its detoxifying action is perfect to cleanse your skin thoroughly, decrease redness and regulate the flow of sebum, giving you a matt skin for longer.
Chaulmoogra oil widely used in Asian medicine, it contains rare fatty acids known to calm irritated and damaged skin. It also harmonizes the pigmentation of the skin, very helpful when spots leave scarring and pigmentation.
Micronized silver is a natural shield. Regulating and stabilizing some cutaneous microflora it prevents the development of unwanted bacteria. Its anti inflammatory properties contribute to restoring the optimal physiological balance of the skin.
Prebiotics feed the good bacteria in your skin, allowing them to increase to help fight off infections and inflammation.
How to Use: Use one ampoule per day. Apply half of the ampoule to a clean skin,to the entire face or affected areas, in the morning and the remainder at night. In the morning, Apply your day care, La Creme du Jour or Le Serum Anti Soif, and makeup if you wish.
Absolution La Cure Peau Nette