Spongelle Men's Supreme Buffer Cedar Absolute 99g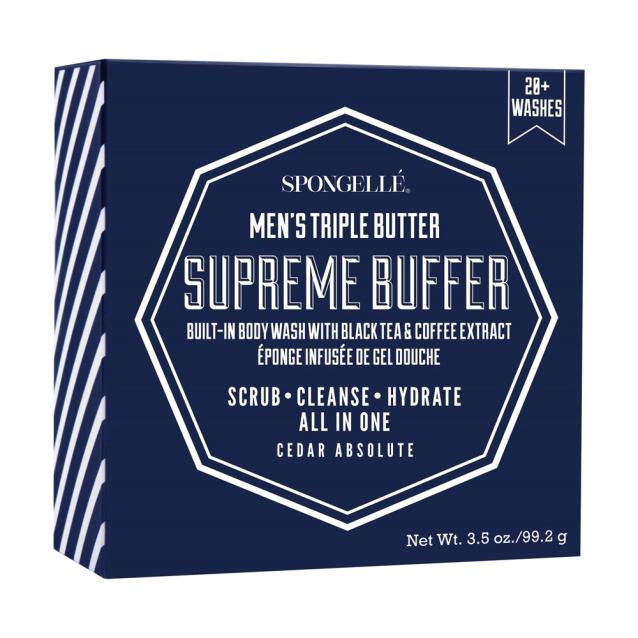 Spongelle Men's Supreme Buffer Cedar Absolute 99g has been formulated with moisturising cocoa butter, nourishing shea butter, and vitamin A enriched mango butter. Cedar Absolute is the perfect scent to kick-start your day, take to the gym or to refresh in the evenings. Enriched with extracts of black tea and coffee to help skin feel smooth and rejuvenated. Rich moisturisers and cleansers, combined with an invigorating masculine fragrance to leave your skin fresh, soft and healthy.
The thick and creamy suds envelope your body from head to toe for the ultimate shower experience, with its unique surface that changes from exfoliating to as soft as silk texture. With time released technology this buffer can be used for 20 washes or more.
Please Note: 20+ washes
Fragrance notes:
Top: Lemon, Myrrh, Oud Wood
Middle: Amber
Base: Black Rose
Benefits:
Built-In Body Wash and Buffer
Cleanses, Scrubs, and Hydrates
Time-Released Lather
Dermatologist Tested
Vegan Friendly, Cruelty-Free
Proprietary Infusion Technology
Includes Hanging Ribbon
Good For Travel
Gift Boxed
How to use: Place sponge under warm water, squeeze to absorb. Massage in to cleanse skin. Squeeze out excess water after each use.