Skinceuticals Blemish And Age Defense Serum 30ml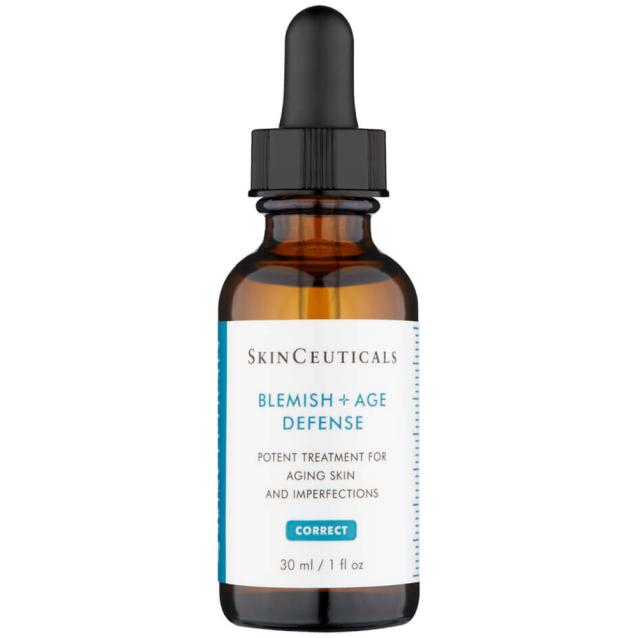 Recommended for blemishes, spots and blackheads, first wrinkles, lack of radiance, visible pores, uneven skin texture, dehydration and fine lines. Skinceuticals Blemish And Age Defense Serum is a targeted high potency serum that not only treats imperfections and blemishes but also addresses the signs of ageing. An acid blend of 2% dioic acid and optimal alpha and beta hydroxy acid formulation to prevent the formation of blemishes, minimise hyper pigmentation, and reduce the appearance of fine lines and wrinkles.
Skin condition: Ageing, imperfections
Skin type: Oily, combination.
Benefits:
Powerful, targeted serum to address adult blemishes and signs of aging
In a clinical study, significantly reduced pustules by week 1, and sebum production and fine lines by week 4
May be used all over the face to prevent and correct imperfections and aging
Prepares skin for clinical peel procedures, particularly Micropeel or Micropeel Plus
Cosmetically elegant formula is ideal for layering with other products and under make-up
Suitable for inflammatory and non-inflammatory blemishes, photodamaged or photoaged skin, hyperpigmentation or uneven skin tone, fine lines and wrinkles, combination/oily skin.
Prior to clinical peels
Directions: Once or twice a day after using Blemish + Age Cleansing Gel and Blemish + Age Solution, apply 4-6 drops to face, neck and chest, or as directed by a skincare professional.
Complete your regimen:
Blemish + Age Cleansing Gel
Blemish + Age Solution
Serum 10 or Phloretin CF
Hydrating B5 or Daily Moisture
Ultra Facial Defense SPF 50
Get ONE Free SkinCeuticals Deluxe Skincare Sample added to your parcel, when you spend £30 or more on SkinCeuticals. T&C apply. *One Random sample will be chosen, depending on the stock level.