Sienna X Gradual Untinted Self Tan Lotion 200ml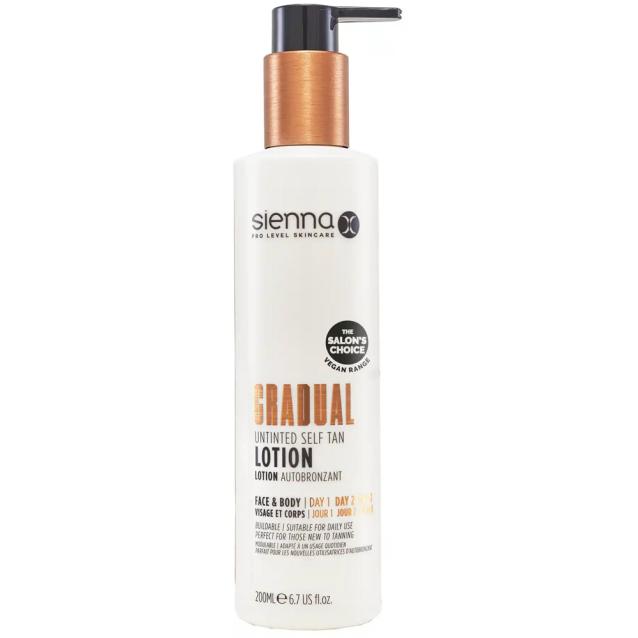 Sienna X Gradual Untinted Self Tan Lotion is a rich and luxurious moisturising cream. Designed to gradually build up a natural looking, heavenly, sun kissed tan. You can also use this to prolong a sunless tan. The anti cellulite formulation helps skin appear smoother, firmer and bronzed. While the exotic coconut, vanilla fragrance may just transport you to the beach of your dreams. This gradual tan is one of our best selling self tanning products.
Sienna X gradual tan lotion was voted best self tan by Women's Health Magazine
Benefits:
Sweet almond oil, restores elasticity and smoothness.
Aloe Vera, soothes and softens skin.
Cocoa butter, richly moisturising.
Anti cellulite formula improves appearance of skin.
Gorgeous coconut/vanilla fragrance.
Vegan Friendly.
How to use:
Use alone, or for a pro finish apply the Sienna X Perfect Self Tan Primer to elbows, hands, knees and ankles.
Apply tan onto a Sienna X Luxury Mitt and rub in the Gradual Self Tan Lotion evenly paying extra attention near hands, wrists and feet to ensure an even finish.
Allow to develop for 8hrs before showering, pat dry.
Has this product had a name change?
Yes, this product was called Sienna X Gradual Self Tan Lotion. Sienna X have changed the names of some of their self tan products and updated their packaging.