Puori CP3 Beauty Collagen Lemon Flavour 185g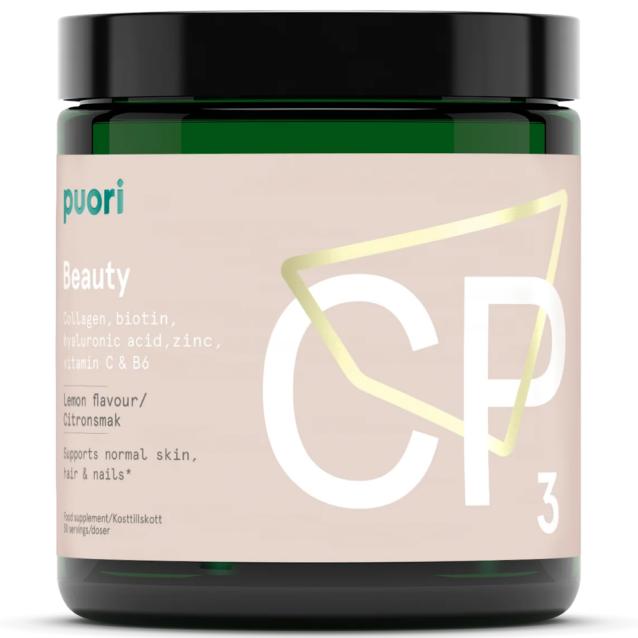 Get ready to experience the power of beauty collagen! Puori CP3 Beauty Collagen Lemon Flavour 185g is a powerful daily supplement designed to help you achieve your most beautiful self. A unique blend of collagen, hyaluronic acid, biotin, vitamin B6, zinc and vitamin C helps support healthy skin, hair and nails. Plus, it is available in two delicious flavours - non-flavoured and lemon! Make Puori CP3 Beauty Collagen part of your daily beauty routine for beautiful results you can see and feel.
Benefits of Beauty Collagen:
Zinc and biotin contribute to the maintenance of normal skin and hair
Zinc contributes to the maintenance of normal nails
Vitamin B6 helps reduce tiredness and fatigue
Vitamin B6 contributes to a normal hormonal balance
Nut Free, Gluten Free
Free from Parabens, Petrochemicals, Mineral Oils, Phthalates, SLS, Pesticides and other nasty chemicals
How to use: Daily recommended intake from 11 years: 1 scoop. CP3 Beauty is easily added to any cold beverage such as water, smoothies, or juice. Fill your glass with 1/3 of the chosen beverage, add CP3 Beauty and then pour the rest of the beverage in – stir until dissolved. We suggest mixing one scoop with minimum 100ml beverage. Daily recommended intake should not be exceeded.
How long should this last?
1 scoop a day, 30 day supply.