Neom Real Luxury Intensive Skin Treatment Candle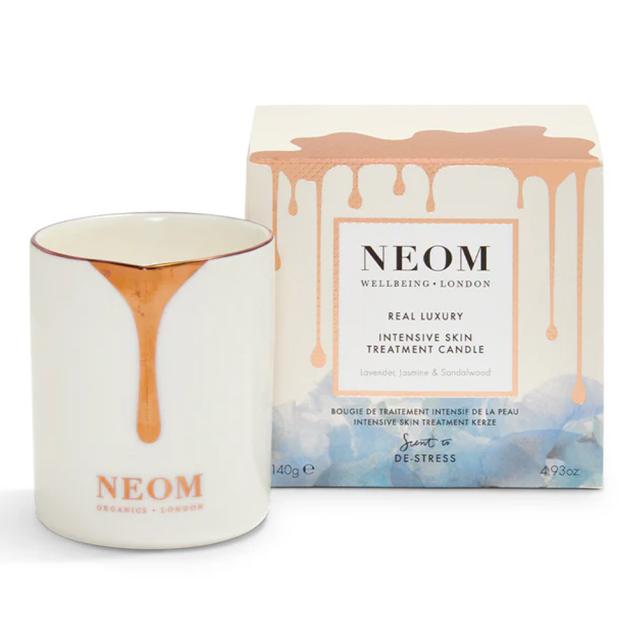 In just one application Neom Real Luxury Intensive Skin Treatment Candle will intensively treat tired and stressed skin whilst deeply relaxing both body and mind. The Real Luxury natural fragrance will help you instantly de-stress, with a complex of 24 calming essential oils that includes Lavender, Jasmine And Brazilian Rosewood in a base of cocoa butter to hydrate your skin, vitamin rich soybean, almond oil and 100% natural vegetable wax that work together to penetrate the skin leaving it repaired and nourished. In a beautifully delicate gold rimmed container, formulated with a low melt point so that it is ready to use and in just after just 2 minutes, melting into a soothing aroma therapeutic pool of oil that is ready to be drizzled over the skin for massage.
Weight: 140g
Benefits:
All Neom skin products have three benefits. Two for your skin and one for your mind. After all, you cannot look good if you do not feel good.

1. Nourish - Rich cocoa butter and almond oil
2. Soften - Moisturising soybean oil
3. De-stress - 24 calming essential oils
How to use: This unique, deeply nourishing treatment is perfect for all over the body. Give your Intensive Skin Treatment Candle 30 minutes to burn and create a pool of precious oil. Meanwhile, you could soak in a warm bath, ideally with the Real Luxury Bath Foam or Bath And Shower Drops. Then blow out the candle flame, cool for 2 minutes and drizzle the warm oil over any part of the body in need of repair and rehydration. Be sure to trim the wick after each use, but only after the wax has set.
Fragrance: Cashmere blankets and the flutter of the fireside warmth. A precious moment of utter luxury. Heady jasmine with a little French lavender and the soothing, spicy tones of Brazilian rosewood.
Therapeutic effects: Jasmine is an oil long celebrated for its ability to lift the spirits and inspire optimism. For this unique blend we coupled it with rosewood, a comforting and warming oil with a balancing effect on the mind and body. Alongside this there is also ultra relaxing lavender and a further 21 essential oils, all chosen for their ability to make you feel pampered.