Neom Perfect Night's Sleep Bath Foam Tranquillity 200ml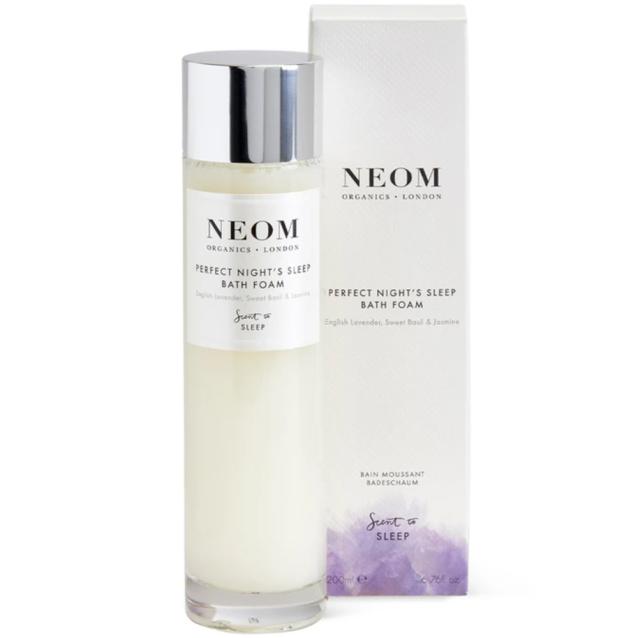 A therapeutic scent of 19 pure essential oils that have been expertly blended to help give you the perfect nights sleep. Neom Perfect Night Sleep Bath Foam has a wonderfully relaxing effect on your mind and body. Part of the Scent To Sleep range the Tranquillity fragrance is a blend of pure essential oils including English lavender, sweet basil and jasmine to help you relax and prepare for sleep. Lavender has been proven in countless studies to calm and relax the mind and body when inhaled. Perfect Nights Sleep Bath Foam contains the highest possible percentage of pure essential oils, which not only smell wonderful but also have true therapeutic effect on your mind and body, helping to transform the way you feel. SLS Free with Soothing marshmallow, aloe leaf, coconut and sweet almond leave your skin feeling soft and supple. You simply choose the treatment you need. Whether it is to relieve stress, calm and relax, aid sleep, boost your energy or lift your mood, Neom make Scent to make you feel good.
All Neom skin products have three benefits: two for your skin and one for your mind. After all, you cannot look good if you do not feel good.
Soften - Marshmallow and coconut oil
Soothe - Aloe leaf and sweet almond oil
Sleep - 19 relaxing essential oils
Fragrance: The purple splendour of a neatly lined lavender field on a glorious English summers day. The green, sweet scent of English lavender, typically a little cleaner smelling than the more floral French lavender, coupled with sweet basil and pretty jasmine is a heavenly relaxing blend.

Therapeutic effects: Neom spent two years expertly twisting together hundreds of oils to find a blend that would help induce the perfect night's sleep. Lavender has been proven in countless studies to calm and relax the mind and body when inhaled. In our trials the vast majority of people had a better nights sleep after using this scent.
How to use: Create your own pre-sleep haven. Pour a capful of foam into running water before getting in and soaking for at least 10 minutes. Use some simple breathing techniques, in through your nose for 7 seconds and out through your mouth slowly for 11 seconds. Let a feeling of calm wash over you. We like dimming the lights and having a Tranquillity Scented Candle beside us. Utter bliss.