Murad Quick Relief Moisture Treatment 30ml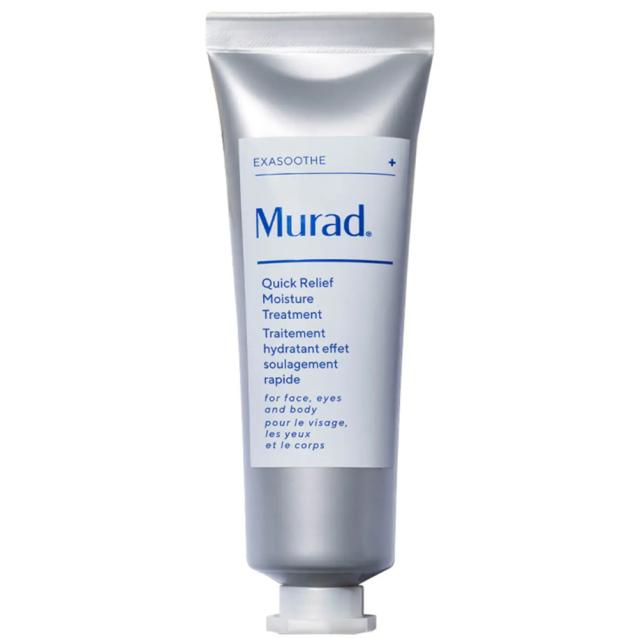 Introducing Murad Quick Relief Moisture Treatment, your instant solution for skin discomfort. Experience rapid relief like never before with the Murad Quick Relief Moisture Cream. When your skin craves immediate comfort, this advanced formula, backed by clinical research, comes to the rescue. Say goodbye to itchiness and irritation caused by dryness and embrace a soothing sensation that rejuvenates your skin. Embrace comfort on-the-go by stashing this treatment at your desk or in your bag. Don't let impromptu irritations disrupt your day – keep relief within arm's reach.
Suitable for all skin types:
Balanced: Achieve harmony for your skin with the Quick Relief Moisture Treatment's nourishing properties
Oily: Even oily skin can benefit from this treatment, as it calms and balances without leaving behind greasiness
Combination: Strike the perfect balance between hydration and control for your combination skin.
Dry: Combat the discomfort of dryness with the intense moisture infusion of our treatment.
Sensitive: Gentle and effective, this formula is tailored to care for sensitive skin, alleviating irritations and redness.
Key Features:
Clinically Proven Colloidal Oatmeal: Harnessing the power of nature, our treatment features highly concentrated colloidal oatmeal, a trusted ingredient renowned for its ability to combat minor irritations caused by eczema and over-dry skin.
Exclusive Ground Cherry Blend: Enriched with a proprietary blend containing ground cherry, this cream provides deep hydration that alleviates discomfort and redness, leaving your skin revitalised and balanced.
Fast-Acting Relief: Unlike traditional greasy ointments, our Quick Relief Moisture Treatment works instantly to soothe and calm irritated skin. It's an on-the-spot solution for itchiness, redness, rashes, and discomfort associated with dry, sensitive skin.
Long-Term Comfort: By reducing your skin's sensitivity to dryness triggers, this treatment cream offers a proactive approach, extending the time between flare-ups and providing continuous relief.
How to use: Massage Soothing Oat and Peptide Cleanser over dampened face, neck and closed eyes. Rinse and pat try. Apply a thin layer of Quick Relief Moisture Treatment on affected areas one to three times daily or as needed. Massage Daily Defense Cream evenly over face and neck. Gently pat under eye area.
Formulated without Parabens, sulfates, phthalates, gluten, fragrance, formaldehyde, alcohol, mineral oil, petrolatum, oxybenzone, dimethicone, silicones, dyes, animal-derived ingredients.