Murad Prebiotic 3 In 1 MultiMist 100ml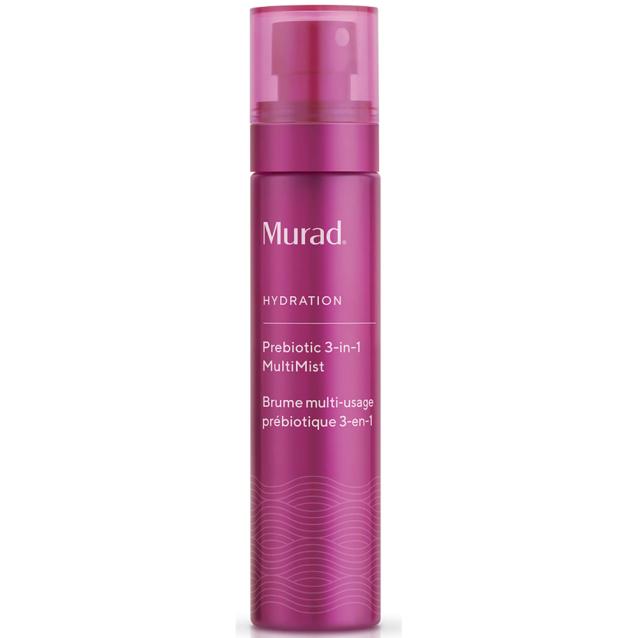 Balance your skin microbiome with Murad Prebiotic 3 in 1 MultiMist rich in peptides and prebiotics for healthier glowing skin. Promoting enrichment of good bacteria, reinforcing and helping boost the natural hydration reserves in your skin for a smooth, healthy barrier. This 3 in 1 formula features hydrating sugars to moisturise and refresh skin, while a yeast peptide helps lock in your skins natural moisture levels to promote healthy, hydrated skin, which, in turn, supports an ideal environment for a healthy microbiome. A multi tasking biopolymer complex primes and sets makeup.
Suitable for: normal, oily, combination, dry, sensitive
Skin concerns: dehydration and dullness, fine lines and wrinkles, priming and setting makeup
How to use: Apply morning and night. Hold bottle 8-10 inches away from face, close eyes and mist evenly onto skin. Can be applied under makeup to prime or after makeup to set. Use to refresh throughout the day.
Get glowing and healthy skin with Murad Prebiotic 3 In 1 MultiMist! Our unique formula of peptides and prebiotics help balance your skin microbiome for healthier, more radiant skin. It's the perfect way to get long-lasting hydration in a gentle mist that you can use anywhere, anytime. Enjoy softer, smoother skin that looks amazing all day with Prebiotic 3-In-1 MultiMist skin pray!
What's the difference between probiotics and prebiotics?
Probiotics are living organisms/ bacteria that protect against harmful bacteria and aggressors. Prebiotics are the "food" for bacteria that help create a healthy balance.
Why is this product formulated with prebiotics rather than probiotics?
Because probiotics are living, they are less stable and less consistent in topical skincare formulations.
Are prebiotics better than probiotics?
No. Prebiotics and probiotics are both essential for our health. One is not better than the other.
Why is the microbiome important to skin's health?
It provides nutrients to the skin , helps create a barrier against assaults and encourages a balanced, healthier looking surface.
Are the microbes in my gut the same as the microbes on my skin?
No. Different parts of the body have different microbes.
What causes the microbiome to get out of balance?
Anti bacterial products, antibiotics, genetics, harsh synthetic products, excessive cleansing habits, allergens and environmental toxins are all responsible for a bacteria imbalance on skin.
Are the effects of skin microbiome imbalance visible?
YES! Microbiome imbalance can result in various visible skin issues including acne, dryness and dehydration, as well as issues like sallowness, deeper fine lines, eczema and premature ageing.
What's the difference between a toner and a mist?
Toners, are applied after cleansing, before moisturising, balance pH levels and remove excess impurities. Mists are an anywhere, everywhere product used to refresh skin anytime, nourish and soothe and suitable for all skin types, especially sensitive.