Minikini Dark Brown Pubic Hair Dye 30ml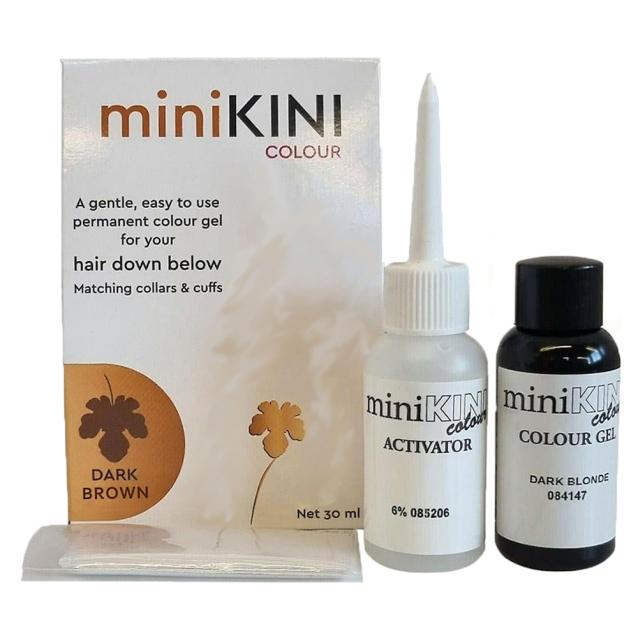 Minikini Dark Brown Hair Colourant Gel offers a convenient solution for men and women looking to achieve a harmonious shade for their hair, whether above or below. It's expertly crafted to not only conceal grey strands but also to create a coordinated appearance between different areas of the body. Made with a gentle blend of organic ingredients, it's specifically tailored for application in the bikini region. Additionally, it's an excellent choice for men aiming to enhance the colour of their beards, moustaches, or chest hair. Minikini's hair colourant gel is a lasting solution that grows out with grace, enduring up to 4 to 6 weeks. The Dark Brown shade is ideally suited for individuals with brown and black hair.
Please Note: A sensitivity patch test must be carried out 48 hours before use.
Benefits:
Gentle and easy to use
Works with tones in your hair to give a very natural looking colour
Dermatologically tested
Not tested on animals
Suitable for vegans, vegetarians and gluten free
How to use: Once you have completed the patch test, mix the colours and leave on for 30 minutes. Allow 40 minutes to cover grey.
It's permanent and grows out, so it will last 6-8 weeks.
If I go Blonde and want to go back dark how long should I wait to do it?
We recommend you wait at least 2 weeks.
Is it safe to apply it in that sensitive area?
Yes. It has a special formula to colour the pubic hair. It's non-drip and safe as long as you follow the instructions. Remember that it is for external use only.
Why not conventional hair colour?
They can be very harsh in such a sensitive area.
Will it rub off on my underwear?
No. It will not rub off on underwear or other clothing Nor will it rub off with physical activity.
Yes. We have found many men want to cover their grey down there as well as their chest hair.
Does it stain the skin like a normal hair colour do?
All colour has a tendency to stain the skin to some degree especially on the darker colours. However, we found that if staining occurs it is very light. It is recommend to use a barrier cream (such as Vaseline) around the area to be coloured. i.e. inner thighs and bikini line. Any light staining that may occur can be removed easily with a mild astringent.
How long to leave it for best results?
we recommend you leave it on for 15-20 minutes.
does heat or swimming affect the results?
It's sweat, pool and weather proof, but it may be best to use it a week or so prior to a holiday so it has time to take on a more natural look.
Do I need to do a sensitive patch test before using it?
YES PLEASE! Sensitivity Patch test must be done 48 hours before use.
Terence Whiteman Confirmed Purchase
Jul 10, 2021
I enquired about the purchase of minikini dye I found the staff very helpful and non judgmental about me buying the dye for my chest hair.
Over the years I have tried every hair dye going with no success . brought minikini dye the staff very helpful and the product arrived the next day . When I have used the dye I will write a review. Many thanks Terry. (Brighton) .
Val Vincent Confirmed Purchase
Dec 3, 2020
The product is excellent and quick and easy to use. I would definitely recommend this to my friends.
steve wilson Confirmed Purchase
Nov 19, 2020
I used to get the Betty beauty but you had to use baby oil around the area to stop it staining the skin which took days to get rid of if you didn't use baby oil
This new product is like WOW no staining what so ever, you do not need much and after leaving it on and then showering NOT A STAIN ! on the skin, the only down fall is no gloves no mixing kit BUT having throw away gloves and a wee plastic bowl just did the trick, you can get many applications out of it even though there is not as much as betty beauty, if your trimmed but just want to touch up like my as rest of me is brown just that area ginger the brown wow blends in PERFECTLY with the rest of my body hair you wouldn't even know i had been ginger ! down there