Minikini Black Pubic Hair Dye 30ml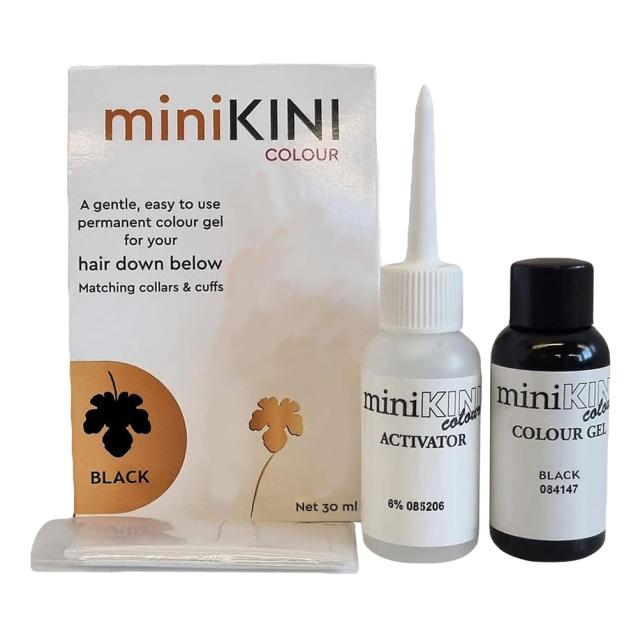 Minikini Black Hair Colourant Gel is an easy-to-use solution that's perfect for men and women looking to harmonise their hair shades. This unique product is not only effective for covering grey strands but also offers the flexibility to coordinate the appearance of hair across various areas of the body. Created with a gentle composition of organic ingredients, it's been specifically tailored for use in the bikini zone. Additionally, it's suitable for men desiring to enhance the colour of their beards, moustaches, or chest hair. Minikini's hair colourant is a permanent solution that grows out gracefully, providing a lasting effect for up to 4 to 6 weeks.
Please Note: A sensitivity patch test must be carried out 48 hours before use.
Benefits:
Gentle and easy to use
Works with tones in your hair to give a very natural looking colour
Dermatologically tested
Not tested on animals
Suitable for vegans, vegetarians and gluten free
How to use: Once you have completed the patch test, mix the colours and leave on for 30 minutes. Allow 40 minutes to cover grey.ene.
It's permanent and grows out, so it will last 6-8 weeks.
If I go Blonde and want to go back dark how long should I wait to do it?
We recommend you wait at least 2 weeks.
Is it safe to apply it in that sensitive area?
Yes. It has a special formula to colour the pubic hair. It's non-drip and safe as long as you follow the instructions. Remember that it is for external use only.
Why not conventional hair colour?
They can be very harsh in such a sensitive area.
Will it rub off on my underwear?
No. It will not rub off on underwear or other clothing Nor will it rub off with physical activity.
Yes. We have found many men want to cover their grey down there as well as their chest hair.
Does it stain the skin like a normal hair colour do?
All colour has a tendency to stain the skin to some degree especially on the darker colours. However, we found that if staining occurs it is very light. It is recommend to use a barrier cream (such as Vaseline) around the area to be coloured. i.e. inner thighs and bikini line. Any light staining that may occur can be removed easily with a mild astringent.
How long to leave it for best results?
we recommend you leave it on for 15-20 minutes.
does heat or swimming affect the results?
It's sweat, pool and weather proof, but it may be best to use it a week or so prior to a holiday so it has time to take on a more natural look.
Do I need to do a sensitive patch test before using it?
YES PLEASE! Sensitivity Patch test must be done 48 hours before use.
steve wilson Confirmed Purchase
Jan 13, 2021
WOW BRILL! What can i said I am not having to use baby oil around all the groin area to stop the skin from being dyed like i did with Betty beauty.
It may look like you don't get much BUT i use 1 tea spoon on the peroxide and 1 tea spoon of the dye and that lasts a good 5 weeks and i say i get a good 3 applications out of it you might squeeze a 4th.
Don't need no baby oil just mix the stuff slap it on wait half and hour even if skin is stained a shower and soap and all thats left is dyed pubic area and clean skin