Medik8 Pore Refining Scrub 75ml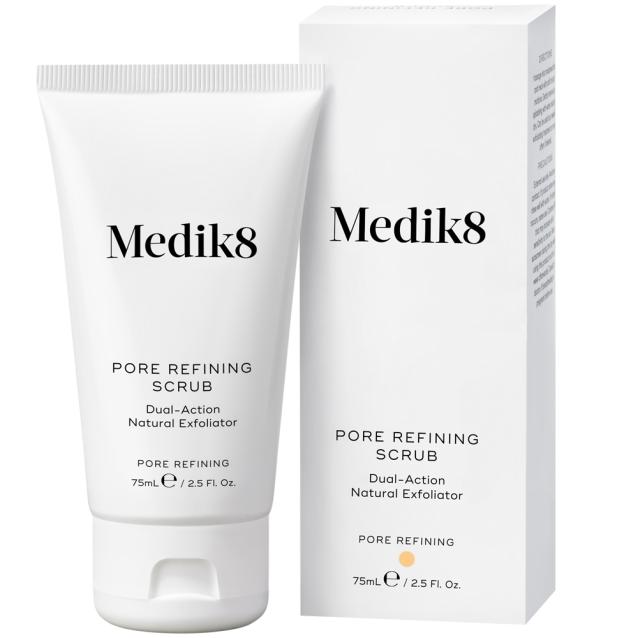 This dual action scrub has been developed to give daily deep pore cleansing, by gently exfoliating away dead skin cells, revealing a healthier more radiant, smoother complexion. Medik8 Pore Refining Scrub combines a natural physical exfoliator that washes away dirt and grime and L Mandelic acid, a soothing hydroxy acid, to loosen skin cells and promotes the natural renewal of healthy skin cells for a more visible result, diminishing pore size and refining skins texture.
With its silky soft, creamy texture and a sweet, honeysuckle fragrance, Pore Refining Scrub delights the senses as it helps renew and resurface the skin for a picture perfect complexion. Salicylic and mandelic acid lift impurities from deep within the skin, decongesting enlarged pores so they can shrink back to their original size. At the same time, biodegradable jojoba grains delicately polish the surface of the skin, effortlessly restoring a healthy, natural glow. Over time, pores are refined, skin feels soft to the touch, and the overall complexion is left beaming with youthful luminosity.
Benefits:
Combines AHA, BHA and mechanical exfoliators
Diminishes pore size and refines skin textures
Effectively removes dead skin cells
Promotes skin cellular renewal
How to use: Massage into a moistened face and neck with soft, circular motions. Gently remove by splashing with water and pat dry. Can be used as a weekly exfoliating treatment or more often if desired. Follow with your Medik8 serum.