Medik8 Blemish SOS Rapid Action Target Gel 15ml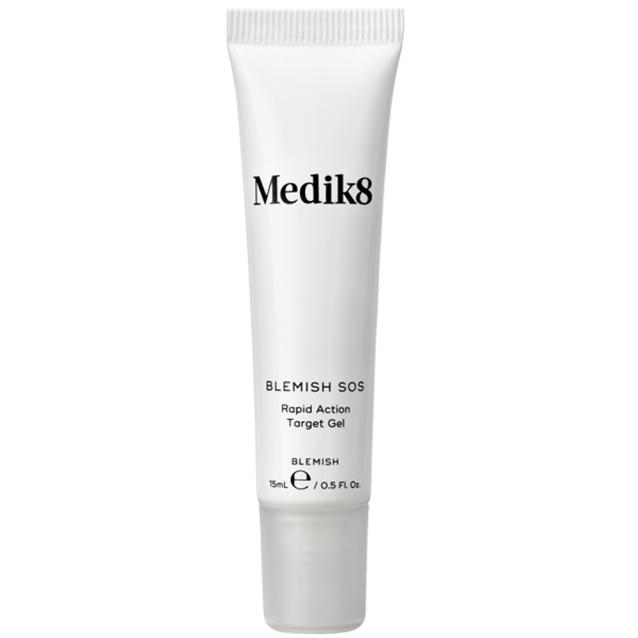 A professional strength treatment gel to visibly reduce breakouts in just 24 hours, Medik8 Blemish SOS Rapid Action Target Gel is designed to use on individual blemishes or larger problem areas, clearing pores, reducing inflammation and leaving your skin clearer and healthy. Blemish SOS Gel dries quickly without leaving any residue, so can be applied on its own or under makeup. Fuss free and travel size meaning you can take this spot treatment with you anywhere.
Medik8 Blemish Gel has a complex of spot fighting actives, including salicylic acid for its exfoliating ability, sloughing away dead surface skin and penetrating deep inside the pores, while soothing niacinamide, boasts powerful anti inflammatory properties that reduce unwanted and sometimes painful redness, associated with acne and spot breakouts. Azelaic acid works in conjunction with niacinamide to soothe irritation and also possesses an effective decongesting function, targeting blemish causing P. acnes, the blemish bacteria. Finally Dioic acid reduces the amount of sebum our skin produces. Less sebum means less pore blockages.
How to use: After cleansing in the morning and/or evening, dispense an adequate amount of Beta Gel, one drop should cover one blemish, onto a clean finger and gently apply onto blemish, rubbing in carefully. Designed to be used together with the beta range for tackling blemishes as part of a routine.
Benefits:
Powerful anti acne action. Can be used day and night
Suitable for application underneath make-up post-cleansing
Once dry, will not affect your usual skincare and make-up regime
Contains azelaic and salicylic acids to act as exfoliants, removing dead skin cells to unclog pores and improve skin texture and tone for a smoother, more refined appearance
Calms redness fast. Anti inflammatory properties help to heal existing breakouts and prevent future blemishes from forming
Reduces the discomfort often experienced when spots are inflamed and sore
Salicylic acid cleanses deep inside the pore, clearing out excess sebum and dead skin cells to decrease the chance of bacterial infection
Rosemary oil is included for its botanical antioxidant quality, fighting free-radical damage
Unlike typical anti-acne treatments which induce dryness, niacinamide retains essential moisture, keeping the targeted area hydrated and supple.