Kure Bazaar Love Lipstick And Nail Polish Duo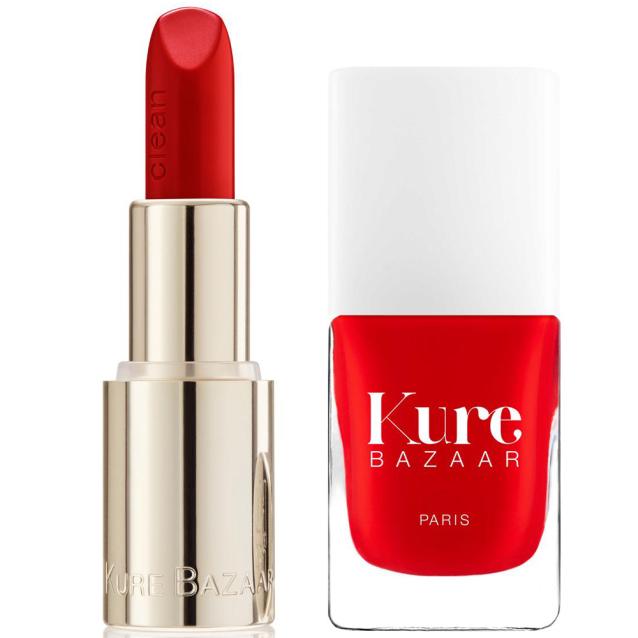 Embrace the power of a classic red with the stunning Kure Bazaar Satin Lipstick Love and its perfect match, Love Nail Polish. This iconic duo combines a universally flattering red lipstick with a vibrant pillar box red nail polish, embodying luxury, natural ingredients, and sustainability.
Includes:
Kure Bazaar Satin Lipstick Love: A classic red shade that flatters every complexion, providing a pop of colour for a bold, confident look. Made with natural ingredients, it's a sustainable choice for eco-conscious beauty lovers.
Kure Bazaar Love Nail Polish: A bright pillar box red with a glossy creme finish. This 12 Free polish boasts up to a 90% natural origin formula, making it one of the most natural nail polishes in the UK. Its practical design includes an ergonomic top, flow control neck, and a non-spill bottle.
Benefits of the Love Duo:
Iconic Red Shades: Both the lipstick and nail polish offer vibrant, classic red hues for a harmonious and stylish look.
Luxurious Finish: The Satin Lipstick provides a sumptuous colour, while the Nail Polish's glossy creme finish adds a sophisticated touch.
Eco-Friendly Beauty: Committed to sustainability, these products combine fashion-forward style with natural ingredients and eco-conscious practices.
How to use: Apply the Satin Lipstick Love for a striking red lip, and complete your look with the Love Nail Polish for a cohesive and stylish red ensemble.
Kure Bazaar Satin Lipstick Love and Love Nail Polish are more than just beauty products; they are a statement of confidence and commitment to sustainable, natural beauty.
Get a FREE Kure Bazaar Lip Scrub, when you spend £30 or more on Kure Bazaar Lip Balms, Lipsticks, and Duo Sets. T&C apply.