Kure Bazaar Bubble Vvee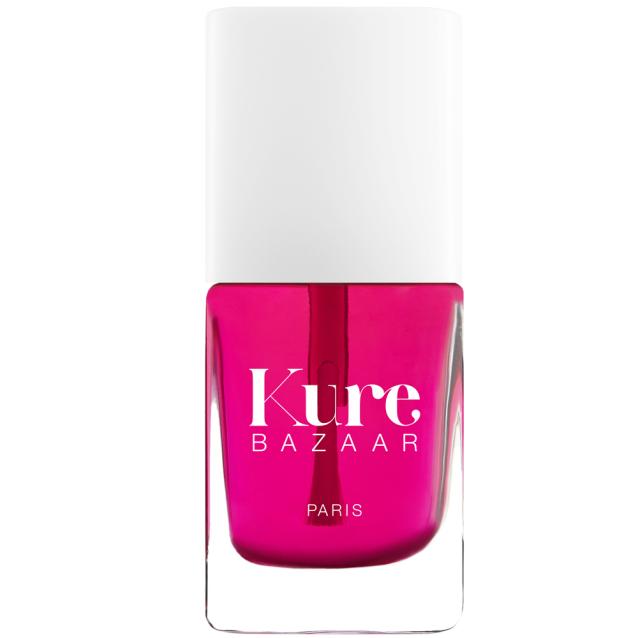 A brightening nail polish with an ultra glossy pink finish, Kure Bazaar Bubble Vvee Nail Polish makes the pink pinker and brightens nail tips for an instant French manicure look. The first layer brings a polished transparent finish, the second to third, a more pronounced pink glow, all with a unique gel like texture that creates a brightening high gloss finish. A fast drying formula that can be used alone without a top or base coat.
Bubble Vvee is the first Kure Bazaar nail polish that has a new formula enriched with organic sesame oil, rich in vitamin E and and Omega 6 fatty acids, with exceptionally regenerating, softening and nourishing properties, it encourages healthier nails naturally day after day, and because it is ultra penetrating it does not leave a greasy finish. It has impeccable resistance, shine, and is also quick drying.
Kure Bazaar exclusive formula is up to 90% naturally derived, Vitamin E, Bamboo, Cotton, Corn, Wheat, Potatoes and 12 Free, made without Toluene, Formaldehyde, Dibutyl phthalate, Synthetic Camphor, TPHP, Paraben, Xylene, Styrene, Benzophenone1-3, Nano colours.
Size: 10ml
How to use: Bubble Vvee doesn't need to be used with a base coat as it takes care of the nails itself by making them healthier. Apply one coat for a transparent finish, two or three coats for a fresh pink glow effect.
Please note: cannot be shipped overseas
Get a FREE Kure Bazaar Lip Scrub, when you spend £30 or more on Kure Bazaar Lip Balms, Lipsticks, and Duo Sets. T&C apply.
JG Customer Confirmed Purchase
Jan 28, 2023
Bought because of the natural ingredients and lasted really well. My daughter borrowed it and other products from this make and loved them all especially this.
Clare Finch Confirmed Purchase
Nov 7, 2022
This is my favourite nail varnish . Beautiful finish , lasts well & doesn't contain any "nasties" .
Tracey Pontin Confirmed Purchase
Oct 24, 2022
Gives a lovely pink subtle gloss to nails
JG Customer Confirmed Purchase
Oct 24, 2022
Very good polish. Happy customer.