Jessica Anything Goes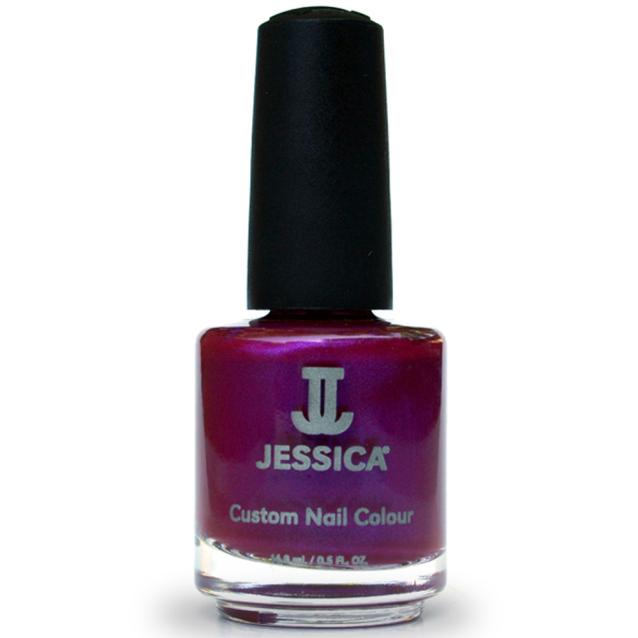 Jessica Anything Goes Nail Polish is an deep purple with an opalescent finish. All Jessica nail polishes are 3 free, Formaldehyde, Toluene and DBP free.
With over 200 long lasting, vitamin enriched shades, you will find the perfect Jessica nail polish to express yourself. And not only do these long lasting, professional polishes tell your story beautifully, but the vitamin enriched formula keeps your nails healthy too. Their signature creamy texture glides on effortlessly, is durable and has a chip resistant finish. Jessica Nail products and nail colours are very popular amongst manicurists. Official UK Online stockist.
How to use:
Hydrate with Jessica Nourish Therapeutic Cuticle Formula or Phenomen Oil.
Prep nail with Jessica Nail Polish Remover.
Clean then prep nail with Jessica Nail Polish Remover.
Apply two coats of your appropriate Basecoat Treatment. The first coat under and over the nail, second coat on top only. Seal the edges then allow to dry.
Generously apply two coats of your Custom Jessica Nail Polish Colour under and over the nail and seal the edges.
Allow nails to dry for a few minutes, apply one coat of Top Priority under and over nail.
Let dry. Apply one coat of Jessica Brilliance, for a shiny fast drying finish, and a drop of Quick Dry for the no fault finish.
Hydrate with Jessica Nourish Therapeutic Cuticle Formula or Phenomen Oil.
Benefits:
Formulated with vitamins A for maximum conditioning
Contain UVA and UVB protection from suns damaging rays
Eco friendly
Toluene and Phalate Free
Quick drying
When it comes to natural nails, Jessica Cosmetics is considered a world leading brand, with a range of Jessica nail products to achieve and maintain naturally beautiful nails. Jessica nails developed products that are used in beauty salons throughout the UK for manicures, pedicures and more recently, Gel Nail with the Jessica GELeration range.
Jessica Nails was started in the 1970s by Jessica Vartoughian, who, after opening nail salons in America which attracted celebrities and referrals, developed her range of Jessica nail products, which has now grown to be a worldwide nailcare brand. Movie stars, models and VIPs regularly have their nails manicured at the renowned Jessica Clinic on Sunset Boulevard, in Los Angeles, as well as being avid users of the Jessica Nail products.
Please note: cannot be exchanged, returned or sold outside the UK.