Dr Dennis Gross Pro Facial Steamer Device Bundle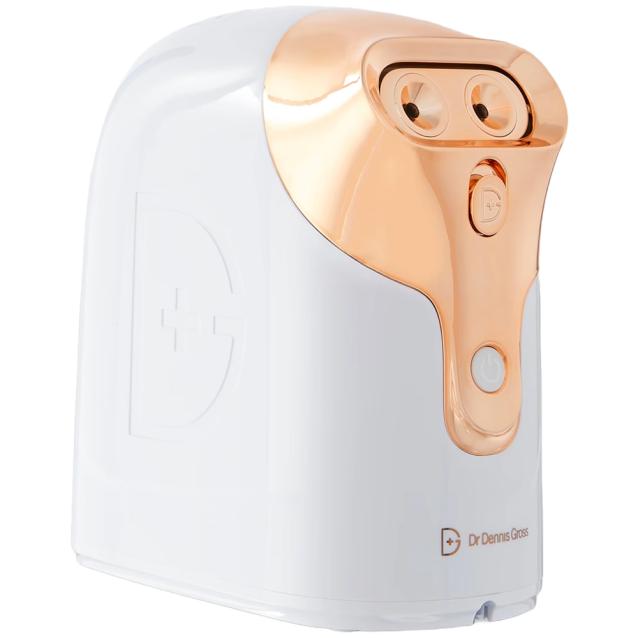 Discover the ultimate skincare experience with the Dr Dennis Gross Pro Facial Steamer Device Bundle. This comprehensive bundle combines the innovative Facial Steamer with a limited edition set of deluxe-size skin treatments worth £30, designed to cleanse, exfoliate, brighten, hydrate, and protect your skin for a visibly clear, moisturised, and radiant complexion.
Bundle Includes:
Facial Steamer: A professional-grade device that opens pores and prepares the skin for deeper treatment.
Alpha Beta Peel Formula Pads (x3 pads): Exfoliating pads for brighter, smoother skin.
Alpha Beta Daily Moisturiser 7ml: Hydrates and nourishes the skin post-exfoliation.
AHA And BHA Daily Cleansing Gel 7ml: Deeply cleanses and refreshes the skin.
Ultimate Defense SPF50 7ml: Provides high-level sun protection while keeping skin hydrated.
Vitamin C Firm And Brighten Serum 7ml: Enhances skin radiance and firmness.
Key Benefits:
A complete five-step kit for an at-home professional facial experience.
Each product in the kit is formulated to target specific skin concerns effectively.
The Facial Steamer enhances the effectiveness of the skincare products by opening up the pores.
Carefully curated products work together to leave your skin clear, hydrated, and radiant.
How to Use:
Begin your skincare routine with the Cleansing Gel and the Facial Steamer for a deeper cleanse and to open pores. Follow with the Alpha Beta Peel Formula Pads for exfoliation, the Vitamin C Serum for a firm and brighten complexion, the Daily Moisturiser for hydration, and finish with the SPF50 for protection.
Embrace a complete skincare transformation with the Dr Dennis Gross Pro Facial Steamer Device Bundle, your pathway to a flawless, spa-quality facial experience at home.
Why Should I Use A Facial Steamer?
Using a facial steamer, such as the Dr Dennis Gross Skincare Pro Facial Steamer, offers several benefits for your skincare routine. Steaming helps to open up your pores, allowing for a deeper cleanse by effectively removing dirt, oil, and impurities. This can prevent breakouts and promote clearer skin. The steam increases blood circulation, resulting in a natural and healthy glow. The improved blood flow delivers oxygen and nutrients to the skin, promoting a more youthful and radiant complexion. Facial steaming can enhance the absorption of skincare products. After steaming, your skin is primed to absorb serums, moisturisers, and masks more effectively, maximising their benefits. Using a facial steamer provides a relaxing and spa-like experience, helping to relieve stress and tension. The warm steam can also soothe and hydrate the skin, leaving it feeling refreshed and revitalised. Incorporating a facial steamer into your skincare routine can improve the effectiveness of your products, promote healthier skin, and offer a calming self-care experience.
How Often Should I Use A Facial Steamer?
The frequency of using a facial steamer depends on your skin type and individual needs. As a general guideline, it is recommended to use a facial steamer once or twice a week. This allows for regular deep cleansing and rejuvenation of the skin without overexposure to steam. However, it's important to pay attention to how your skin responds to steaming. If you have sensitive or dry skin, you may want to use the facial steamer less frequently, perhaps once every two weeks, to avoid potential irritation or dehydration. On the other hand, if you have oily or acne-prone skin, you may benefit from more frequent use, such as two to three times a week. The steam can help to unclog pores and reduce excess oil production. It's crucial to listen to your skin and observe how it reacts to the steaming sessions. If you notice any signs of irritation, redness, or dryness, reduce the frequency or duration of your steaming sessions. Remember to follow the instructions provided with your facial steamer and consult with us if you have any specific concerns about incorporating steaming into your skincare routine.
How Is The Dr Dennis Gross Steamer Better Than Others I Can Buy Online?
While there are other facial steamers available online, the Dr Dennis Gross Skincare Pro Facial Steamer stands out due to its professional-grade quality, advanced technology, convenience, customisation options, and additional skincare benefits.
Is the Dr Dennis Gross Steamer suitable for all skin types?
Yes, all skin types can use this facial steamer.
Get a Dr Dennis Gross All Physical Ultimate Defense Sunscreen SPF50 for FREE, when you spend £60 or more on Dr Dennis Gross Skincare. T&C apply.