Dr Dennis Gross SpectraLite Faceware Pro LED Mask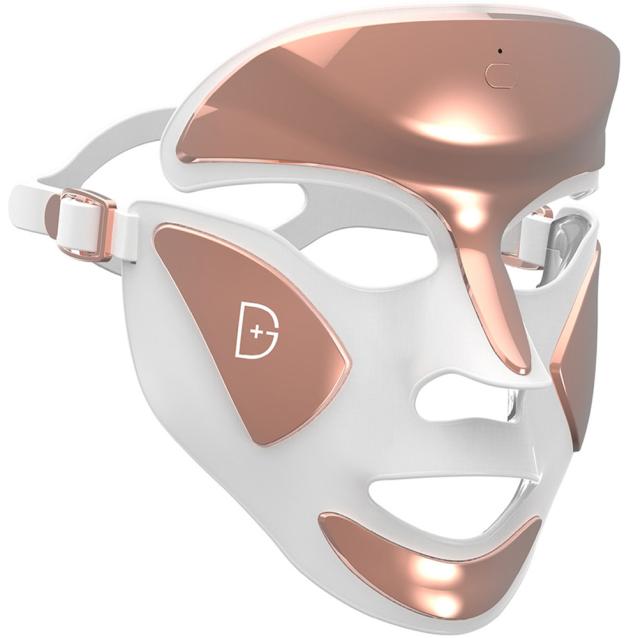 Treat years in minutes with zero downtime with the Dr Dennis Gross SpectraLite Faceware LED Mask. The FDA Cleared LED device will smooth and fade wrinkles in just 2 weeks and improve acne within days. Featuring 100 LED lights in red mode and 62 in blue mode, that work together to smooth the look of wrinkles, diminish discolouration, and target blemishes and acne for a more beautiful and youthful skin. Faceware Pro LED Mask offers professional results in the comfort of your home.
With the Dr Dennis Gross Faceware mask you can choose from three treatment options, red light therapy, blue light therapy, red and blue therapy. Red lights stimulate the natural production of collagen and elastin to reduce wrinkles, sun spots, sun damage, and redness, blue lights destroy P. acnes bacteria and prevent future breakouts, and dual red and blue lights target wrinkles and acne at the same time.
The device is FDA Cleared and features an easy to use, hands free design, a one year limited warranty. It features a charging indicator light and automatic shut off after three minutes. It also features an adjustable head strap for universal fit. FaceWare LED mask does not need to cover the entire face for LED treatment to be effective, if your face is illuminated while wearing the mask, then LED light therapy is working.
Benefits:
Smooths full face fine lines and wrinkles
Firms skin
Reduces appearance of sun spots, age spots, and discolouration
Evens skin tone and texture
Clears mild to moderate acne
Prevents acne flare-ups
Calms redness and reduces inflammation
Increases skin density
How to use: After cleansing and Alpha Beta Peel, place device comfortably over the face, securing strap around head. Press and hold power button for 2 seconds to turn on device, select light setting, red, blue, red and blue, and use for the programmed treatment time of 3 minutes. Remove the Dennis Gross led mask and follow with a serum and/or moisturiser of your choice.
This set includes:
SpectraLite FaceWare Pro
Universal USB charging cord
Detachable, adjustable head strap
Storage bag
User Manual
Quick start guide
Research results:
In a two-week, daily-use clinical study: Over 97% of subjects showed overall improvement in fine lines, wrinkles, and skin tone, and acne.
*This item cannot be returned unless faulty.
Can I use Dr Dennis Gross led mask twice a day?
Once a day for 3 minutes is enough for the best results. At John And Ginger we use ours first thing in the morning as we find it helps us to overcome morning drowsiness.
Get a Dr Dennis Gross All Physical Ultimate Defense Sunscreen SPF50 for FREE, when you spend £60 or more on Dr Dennis Gross Skincare. T&C apply.