Dr Dennis Gross Alpha Beta Universal Daily Peel 60 Packettes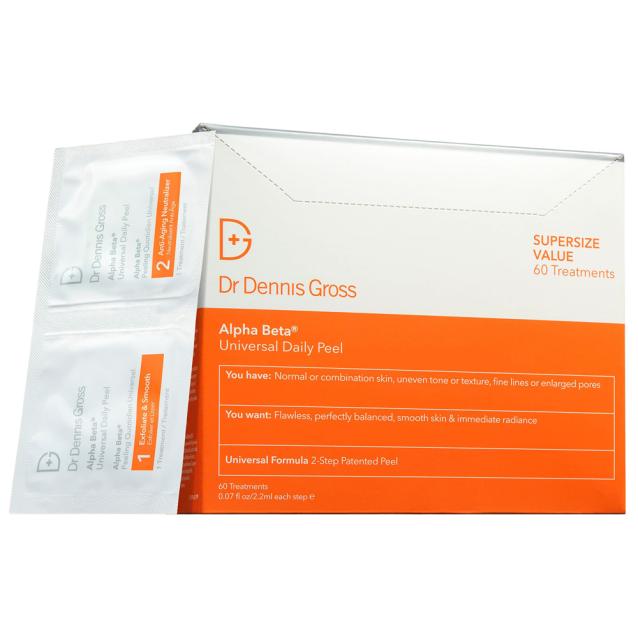 This is the biggest amount of packettes in a box for a long lasting treatment. Dr Dennis Gross Alpha Beta Universal Daily Peel 60 Packettes is a two step anti ageing facial peel that reduces fine lines and wrinkles, enlarged pores, fights blemishes and helps with dark spots and redness. This number 1 at home facial peel delivers instant and lasting benefits, including a smoother, brighter, more youthful and clearer complexion. Individually pre soaked towelettes that combine 5 alpha and beta hydroxy acids plus retinol, ubiquinone, resveratrol and a host of antioxidants, vitamins and soothing botanicals to remove dead skin cells, leaving skin smooth and clear. Personally formulated by Dr Gross, this patented two step system is for all skin types, including those with extremely sensitive skin and first time facial peel users looking for a solution that requires no downtime to reduce signs of ageing and gain a more radiant and youthful appearance.
Suitable for: combination, normal skin types.
Benefits:
Instantly reveal a luminous look all day long
Gently treat large pores
Calms redness
Two minutes for radiant skin
Dimishes fines lines and wrinkles
Hydrates and repairs
Evens out skin tone and texture
How to use: For optimal results, use daily AM or PM. Massage Step 1 onto clean, dry skin until pad is dry. Wait two minutes. Repeat with Step 2 and allow to dry. Do not rinse either step. Finish your regimen with a serum and moisturiser of your choice from Dr Dennis Gross Skincare. To further enhance anti ageing, or acne treatment results, use an LED device after cleansing, but before your Daily Peel. First time peel users may apply every other day until skin becomes acclimated.
Do you moisturise after Dr Dennis Gross peel?
It is a good idea to use a nourishing moisturiser after applying the Dr Dennis Gross Daily Face Peel, so that your skin is hydrated, smooth and replenished.
Get a Dr Dennis Gross All Physical Ultimate Defense Sunscreen SPF50 for FREE, when you spend £60 or more on Dr Dennis Gross Skincare. T&C apply.
Tracy Porter Confirmed Purchase
Jun 16, 2022
I love these daily face peels. So cleansing and refreshing. I don't use them every day, I have one or 2 days off a week from using them but when you use the peel packet you can see and feel the difference straight away. Have been using these peels for about 6 months now and my skin looks much better