Dr Dennis Gross Alpha Beta Extra Strength Peel 30 Packettes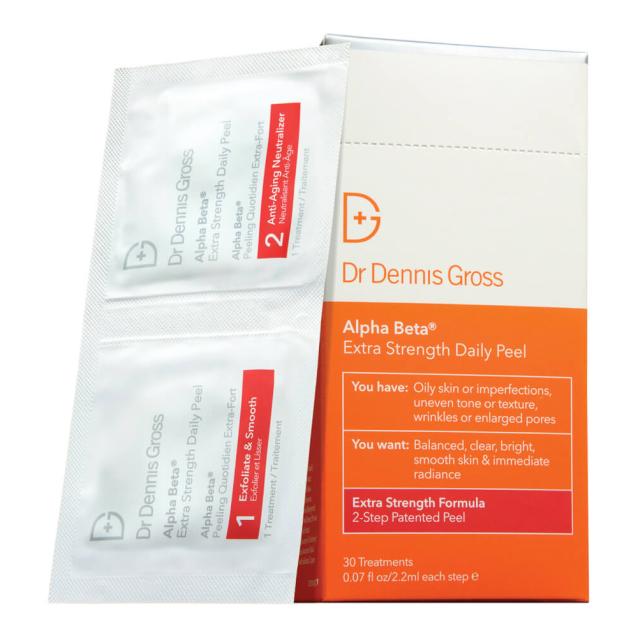 A thirty day treatment to diminish wrinkles, reduce pore size and dark spots and improve skin tone and texture. This two step patented treatment Dr Dennis Gross Alpha Beta Extra Strength Peel 30 Packettes is an extra strength version of Dr Dennis Gross Number 1 selling anti ageing facial peel on pre soaked towelettes, with higher concentrations of alpha and beta hydroxy acids and anti ageing boosters for accelerated results. This at home peel offers significant results with the instant benefits of radiance, smoother skin texture and refined pores. Over time with more use extra strength alpha beta peel will prevent the breakdown of collagen, while sending signals to produce new collagen to ageing. This patented treatment delivers a strong, faster acting professional grade peel without irritation and is suitable for anyone who has tried other anti ageing treatments without success. This innovative, easy to use, two step facial peel simultaneously diminishes the visible signs of ageing and promotes a healthy, youthful appearance. Dr Dennis Gross Extra Strength is for experienced peelers, advanced signs of ageing and breakouts.
Suitable for: combination, normal, oily skin types.
Benefits:
Diminishes the appearance of fine lines and wrinkles
Visibly reduces pores and treats breakouts
Targets dark spots; improves skin tone and texture
Cruelty Free, Vegan, Paraben Free, Phthlate Free
How to use: For optimal results, use daily AM or PM. Massage Step 1 onto clean, dry skin until pad is dry. Wait two minutes. Repeat with Step 2 and allow to dry. Finish your regimen with a serum and moisturiser of your choice from Dr Dennis Gross Skincare. To further enhance anti aging, or acne treatment results, use an LED device after cleansing, but before your Daily Peel. First time peel users may apply every other day until skin becomes acclimated. Advanced peel users, can use use the Daily Peel 4x per week, and incorporate the Resurfacing Liquid Peel into their routine 3x per week.
Can you use Dr Dennis Gross Peel Pads everyday?
For optimum results use daily AM and PM. However this does depend on your skin type and tolerance to hydroxy acids. Normal and combination skin it is recommend to use twice or three times a week to start. Those with oily skin and prone to acne breakouts, it is possible to use everyday or up to twice a day. If you aren't an experienced peel, or frequent skincare user, no matter what your skin type, then incorporate the peel into your routine once or twice a week at first.
Get a Dr Dennis Gross All Physical Ultimate Defense Sunscreen SPF50 for FREE, when you spend £60 or more on Dr Dennis Gross Skincare. T&C apply.
Gillian Coombes Confirmed Purchase
Feb 3, 2023
Great Product leave skin looking clean fresh & plumped..
Dionne Sousa Confirmed Purchase
Dec 1, 2022
Always use these wipes they're expensive but so worth it
Jane McClelland Confirmed Purchase
Nov 1, 2022
I use these regularly and I find they make a real difference to the clarity of my skin. I am prone to open pores and since using these peels over a year ago I can see a definite improvement.