Dermasuri Deep Exfoliating Body Mitt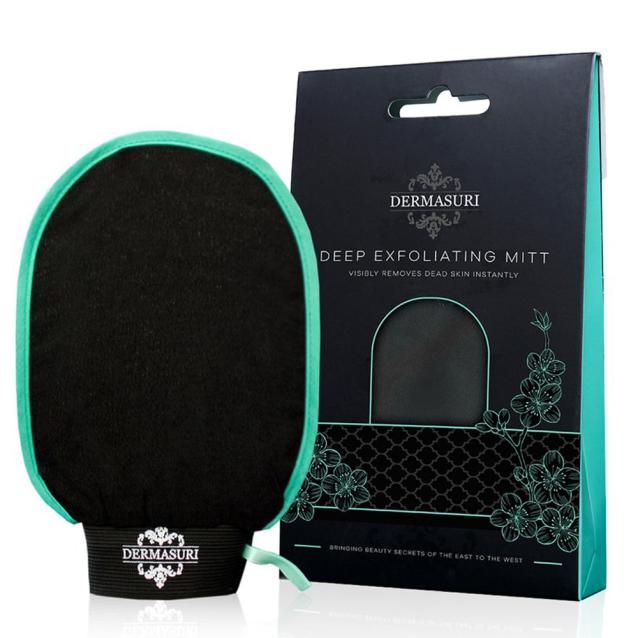 Dermasuri Deep Exfoliating Body Mitt has been designed with a unique fabric texture, to visibly remove surface layers of build-up and dead skin cells. This exfoliating body mitt catches and sheds off dead cells, by simply rolling it off your skin. Helping to improve even skin tone and prevent dullness, giving your skin a beautiful soft glow.
Benefits:
Removes layers of dead skin instantly.
Improves circulation, stimulates collagen and fights ageing.
Helps to absorb skin care products more effectively
Reduces ingrown hairs, bumps and clogged pores
Expert Tip: Use the night before applying Self Tanning products, for a smooth surface and an easy even application.
How to use: Soften your skin in the shower or bath for 5 to 10 minutes. Step away from the water and squeeze away excess water from the mitt, leaving it slightly damp. Exfoliate using upward and downward strokes until you see dead skin cells roll away.
JG Customer Confirmed Purchase
Mar 29, 2021
When you open the packet you do wonder how a piece of black material can be as effective as people say it is. As soon as you have used it once, you know exactly why this product has rave reviews. Amazing! Can save you pounds on exfoliation products and nothing has worked better than this.
JG Customer Confirmed Purchase
Feb 22, 2021
This is brilliant, although i do like a body scrub, this does keep the skin smoother for longer, i only need to exfoliate every 10 days now, not every 4-5 days.