Instant Effects Deep Line Elixir 5ml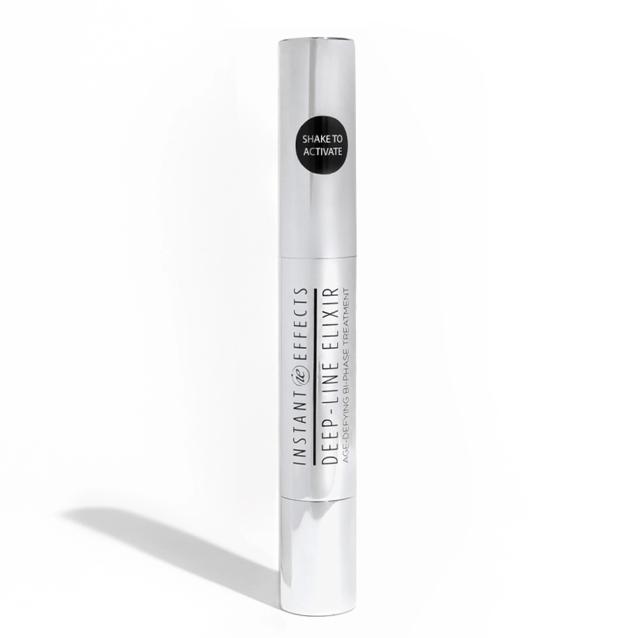 Dramatically reduce the depth of wrinkles in 10 minutes with Instant Effects Deep Line Elixir, utilising the brands OX2 technology that pumps oxygen in to the skin and increases blood flow, whilst antioxidants enhances cell energy and minimises the appearance of expression lines and wrinkles. As well as increasing the elasticity and moisture content in your skin, Deep Line Elixir plumps skin for a younger more youthful looking complexion. Moisturising serum cream.
In clinical trials, testers noted:
Frown and laughter lines reduced by 75% in 10 minutes
Nose to mouth lines diminished
Skin was 117% more moisturised even 12 hours post-application
Effects that last up to 8 hours when first applied
How to use: Gently shake to activate the Deep Line Elixir (note: the clear solution will appear cloudy once activated). Twist the bottom anti clockwise to dispense product. Apply directly to desired line or wrinkle. Use index finger to firmly rub along the line 3 times and against the line 4 times. For the best results, apply morning and evening to freshly cleansed skin.
Cheryl Meineke Confirmed Purchase
Mar 31, 2021
This cream is lovely and smooth leaving my skin soft and minimal wrinkles visible!
Kim B Confirmed Purchase
Jul 28, 2020
I took a selfie and a week passed before i took another and i could see my lines were far less deeper so i will continue to use !
Adalyn Confirmed Purchase
Jul 27, 2020
I love the deep line elixir, it has made such a difference to the little lines around my lips!
Anna Confirmed Purchase
Jul 27, 2020
After only using the product couple of times I have already noticed quite a significant difference, my deep lines seems to be less visible, skin feels hydrated, will definitely continue using the product as very happy with it! Highly recommended!